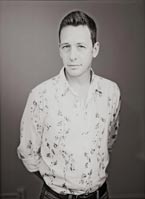 LEXINGTON Ky.—Nationally bestselling author Silas House gave a free public reading of his works on Oct. 21 in Transylvania University's Carrick Theater.
An Eastern Kentucky native, House in his Twitter profile describes himself as: "writer. mountain hugger. father. hillbilly. professor. believer." He is one of the state's best known writers and a champion of environmental and social justice.
House, whose novels include "Clay's Quilt" and "A Parchment of Leaves," has won numerous accolades, including the E. B. White Award, the Audie Award (best narration) and the Nautilus Award; and he was a two-time finalist for the Southern Book Critics Circle Prize, a two-time winner of the Kentucky Novel of the Year and named the Appalachian Writer of the Year.
"Silas House is one of the most important and most versatile writers working today," said Maurice Manning, a Transylvania professor and writer in residence. "His is a broad vision and deeply humane. He is at the forefront of understanding, articulating and defending the Appalachian region. It will be an honor to have Silas visit our campus community."
House serves as the NEH Chair of Appalachian Literature at Berea College and is a faculty member of Spalding University's MFA in Creative Writing program.  He has also been a commentator for NPR's "All Things Considered."
House received the Helen Lewis Community Service Award for environmental activism; and he won the Intellectual Freedom Award from the Kentucky Council of English Teachers.
"Everything he writes, whether it is a novel, a short story, a play, or an Op-Ed, has a profound and persuasive moral point," Manning said. "His writing makes it clear that there are long, unfolding consequences when we allow wrong to fester in the world.  And yet, I never feel as if his writing is didactic; rather, I think his writing proves that in everything we do something vital is always at stake."
House's public reading at Transylvania was made possible by the Delcamp Visiting Writer Series. Carrick Theater is in theMitchell Fine Arts Building. Free parking is available in the adjacent lot off West Fourth Street.