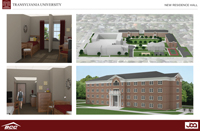 LEXINGTON, Ky.—The Transylvania University community celebrated the construction of a new residence hall during a noontime groundbreaking ceremony on Sept. 5. The event signaled the beginning of a total renovation of the university's student residential accommodations.
"The construction of this building is the first step toward the replacement and improvement of Transylvania's oldest student housing," said William T. Young, chairman of the Transylvania University Board of Trustees. "The new residence hall will offer suite accommodations for students with common study and activity areas. The brick structure will be consistent with Transylvania's traditional architecture."
The $7 million facility, scheduled to open in the fall of 2015, is one of two new housing facilities planned by the university as part of a strategic plan to modernize and encourage more students to reside on campus.
"As we turn the earth today, we demonstrate our commitment to a residential learning experience that fully supports our liberal arts mission," Transylvania President Seamus Carey said. "The design of our new residence facilities recognizes an integral relationship between the environments of living and learning. I look forward to standing here with you again in 2015 when together we will cut a ribbon and open a new era of campus life at Transylvania University."
The historic Transylvania campus is located in one of Lexington's oldest neighborhoods, represented on the Lexington-Fayette Urban County Council by Chris Ford. "These new on-campus residence halls will enhance the Transy student's living and learning experience while here in Lexington," says Ford.  "Our local government is excited for the university community and proudly supports this project."
The 42,000-square-foot, four-story, 144-bed residence hall featuring four-bed suite configurations will rise in a former parking lot adjacent to Clay and Davis residence halls on the west side of North Broadway behind the William T. Young Campus Center. Clay and Davis eventually will be demolished.