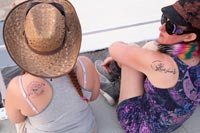 LEXINGTON, Ky.—If you considered the Lexington Tattoo Project sort of a mom and pop endeavor, think of it now as World Wide Inc. (Make that Ink.)
Transylvania University professors Kremena Todorova and Kurt Gohde have launched Love Letter to the World, a variation on their local project that was recognized as one of the nation's top public artworks and featured on CNN.
Participants across the globe will get tattoos based on phrases from Kentucky Poet Laureate Frank X Walker's "Love Letta to the Worl'" poem adorned with designs that will make up a secret image when combined with the other tattoos. Kenny Moorman, a Transylvania computer science professor, built a website that will display uploaded pictures of the tattoos in a variety of ways as Walker reads his poem.
Bianca Spriggs, a local poet and Transylvania graduate, wrote the poem for the Lexington Tattoo Project, which is spawning similar artworks in cities such as Boulder and Detroit and has helped foster not only a pride of place but also camaraderie between participants.
"Tattoos historically have connected people in a tribal way," Gohde said. Could the new project enable this on a worldwide scale? These artists think it can.
"A number of people called the poem very healing and talked about how it's wonderful to have something so connecting at a time that is so divisive," Todorova said.
While participants can connect with the poem's global themes, such as sustainability, they also find personal meaning in words such as "worthy of." They also can have the phrases translated into their own languages and add personal touches to the designs.
On the other hand, this is a collective project. Each participant will have tattoos from the same poem—and have exactly the same words on their bodies as hundreds, maybe thousands, of other people. The sheer numbers will make it tough to display all the tattoos in a single video, which will premiere on the website (www.lovelettertotheworld.com) Jan 1. To address this challenge, the video will be different with each viewing—either displaying the particular tattooed phrases randomly in synch with Walker's reading or showing them by categories such as location, gender, or whether it's somebody's first tattoo as Walker reads.
The project already has generated a buzz, and art ambassadors will help spread the word to other countries. "It's that kind of engagement from people that makes it bigger and bigger and helps us realize it has the potential to connect in a way that will make it grow," Gohde said.
As it expands, the artwork will help show the world how creative Kentucky can be, since the artists use local talent when they can.
And, of course, the idea behind Love Letter to the World is homegrown itself. "In some ways it's a matter of testing what is the tangible success of the Lexington Tattoo Project—can It work on a global scale?" Gohde said.
For more information, contact Todorova at ktodorova@transy.edu or Gohde at kgohde@transy.edu.