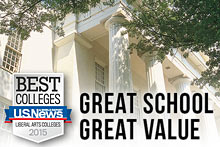 LEXINGTON Ky.—Transylvania University recently received more recognition for offering students one of the best values in the nation.
The school placed high in the U.S. News & World Report's Great Schools, Great Prices list, ranking 35th among U.S. liberal arts colleges for value.
"Students and parents want to make sure they are getting a great return on their college investment," said Brad Goan, vice president for enrollment and dean of admissions. "Value is about cost, but value is also about outcomes. Is it worth it? At Transylvania, we can say with confidence that it is definitely worth it—that a Transylvania education continues to pay dividends over the course of a lifetime."
Ninety-eight percent of Transylvania students receive financial assistance, and the average scholarship and financial aid package slashes the total cost of a Transylvania education by more than half.
The Great Schools, Great Prices assessment is based on the U.S. News Best Colleges ranking and the net attendance cost for a student who has an average need-based financial aid level.
"The list is one of several college value rankings that confirm what members of the Transylvania community already know," Goan said.
Overall, Transylvania ranked 81 out of the nation's 249 liberal arts colleges, according to the U.S. News Best Colleges 2015 guidebook.
The university also ranks 12th in the nation among liberal arts colleges for the economic value students receive per dollar, according to Washington Monthly's 2014 Best Bang for the Buck list.
Another recent recognition came from the Princeton Review, which included Transylvania in its publication, "The Best 379 Colleges." This put the school in a selected group—the top 15 percent of four-year U.S. colleges.