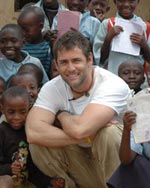 LEXINGTON, Ky.—Eric Klein, whose group tackles some of the world's most critical problems, will give the William R. Kenan Jr. Lecture on Oct. 1 at 7:30 p.m. in Transylvania University's Haggin Auditorium.
Klein founded the Compassion into Action Network—Direct Outcome Organization, a non-profit organization that steps up when people face a variety of threats: from natural disasters and environmental degradation to humanitarian crises and educational inequity.
Klein started CAN-DO in 2004 after frustration mounted seeing organizations collect millions of dollars in donations without showing results. CAN-DO has since completed hundreds of large-scale disaster and revitalization projects in the United States and around the world with 100 percent accountability and zero red tape.
The organization hires local citizens and employs veterans, while giving donors real-time video updates from the field.
"Klein and his organization have conducted relief projects both overseas and in the United States, so we saw an opportunity for our students to become involved in his work if they wish," said psychology professor Meg Upchurch, who coordinates the Kenan Lecture Series. "He was also an intriguing choice because he raises questions about the effectiveness of large philanthropic organizations. Whether the audience members agree or disagree with his stance, he will leave them with something to think about."
In 2008, Klein was awarded a Global Compassion Award at the United Nations for his achievements in international disaster relief efforts and humanitarian aid. He received a Heroes of Haiti award in 2010. He was named one of "Oprah's Heroes" in 2008 and has been featured on CNN and MSNBC.
Transylvania's William R. Kenan Jr. Lecture Series and is funded by a grant from the William R. Kenan Jr. Charitable Trust. It is free and open to the public.