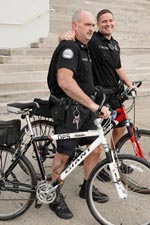 LEXINGTON, Ky.—The first weekend that Transylvania's first-year students arrive on campus, they are treated to an evening of karaoke with the university's public safety officers. A little laughter, some gentle ribbing, a relaxed atmosphere—students learn immediately that the officers are approachable and that they care.
Soon thereafter they recognize that a particular officer has been assigned to their residence hall to keep an eye on their safety and to get to know them. Officers rotate assignments among the dorms so they learn as many faces and recognize as many individuals as possible.
These are just two of the ways that the university's Department of Public Safety uses a community approach to policing. Reaching outside campus, the officers regularly train with local law enforcement agencies and the fire department. They learn they can rely on local first responders to help with any emergency that might arise on campus.
Director of Public Safety Gregg Muravchick—a veteran of city, county, and state law enforcement—encourages officers to develop personal relationships and dedicate themselves to service. With this approach, officers learn to ask, "What can I do for you?" instead of saying, "That's not my job."
Muravchick stressed the importance of having professional, trained staff to provide service no matter the task—whether it's unlocking doors or escorting a student to a dorm room late at night. He expects his officers to take ownership in what he refers to as "our university."
It's the kind of attitude that says: Let me help you. If I can't get it, we're going to get somebody who can and do whatever is necessary to resolve the issue. "That's the approach I like, instead of just being reactive," said Muravchick.
His department, which includes 12 officers with full police powers, regularly prepares for possible emergencies. Recently his staff conducted an exercise with Lexington Metro Police to prepare for the possibility of a shooter on campus. Later this month, the local fire department and officers at the University of Kentucky will bring a "burn trailer" to campus to show students how quickly a fire can spread in a residence hall room.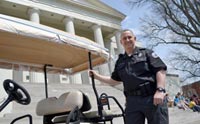 Transylvania takes numerous other steps to keep its campus safe:
A T-Alert system sends emergency messages to individuals' email or phones via text, to the university's website, and to a campus PA system.

Individuals who see an unsafe situation on campus can Text-a-Tip (859-351-7343) directly to the DPS office.

Operation Identification allows students to check out engraving tools to help ID items in case of theft.

More than 60 emergency phones and over 100 security cameras are scattered across campus.

A 24-hour escort program offers students peace of mind.

A cab voucher program ensures students can get a safe ride home from anywhere in the county.
"We're going to do everything we can to take care of our students, faculty and staff and give them the safest environment to enhance their quality of life while they're here at Transylvania," Muravchick said.
For more information, contact Muravchick at 859-233-8135.