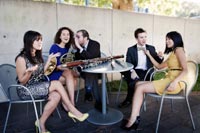 LEXINGTON, Ky.—Transylvania University's downtown campus will provide a home base for WindSync while the Houston quintet serves as ensemble-in-residence for the 2014 Chamber Music Festival of Lexington.
When Barbara LoMonaco, vice president for student affairs and dean of students, learned that the festival's plans to accommodate the group had encountered complications, she readily offered individual rooms in a university residence hall for the duration of the musicians' visit to Lexington.
"We are delighted to support the Chamber Music Festival of Lexington by hosting members of  WindSync on our campus," LoMonaco said.
LoMonaco was supported in her efforts by music professor Ben Hawkins. "Transylvania and its music program continue to seek ways to collaborate with our neighbors to enhance the quality of life in our great city," he said.
The 10-day festival begins on the evening of Thursday, Aug. 14, with a WindSync concert featuring barbecue and beer on the lawn of Loudon House, home of the Lexington Art League. The event is free and open to the public.
Hailed by the Houston Chronicle as "revolutionary chamber musicians," WindSync is recognized internationally for dramatic and adventurous programming in venues ranging from concert halls to museums, universities and schools.  The young, energetic group plays exclusively from memory, incorporating elements of staging and choreography.
For more information, contact Tom Martin with the Transylvania communications office at 859-281-3617.