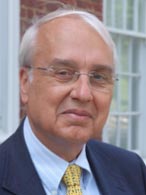 LEXINGTON, Ky.—A champion for teaching college students more about poverty and its implications for society spoke on Sept. 7 during Transylvania University's opening convocation marking the beginning of the academic year.
Harlan Beckley's talk titled "Poverty Studies: A Liberal Arts Vocation?" was free and open to the public. He is the Fletcher Otey Thomas Professor of Religion Emeritus and was an adjunct professor of law at Washington and Lee University, and he currently serves as executive director of the Shepherd Higher Education Consortium on Poverty.
During the convocation, Beckley discussed how undergraduate education in the United States has inadequately addressed poverty.
"Higher education and think tanks in the United States have provided leadership in research about poverty, but we have not done well preparing our graduates in English, education, the arts, the social sciences and sciences—those headed to professional vocations in law, business, healthcare, education and even social services—to address poverty," Beckley said.
He calls for an interdisciplinary study of poverty that goes beyond reading a textbook—to include community engagement and internships.
"When our colleges and universities do more to inform and prepare their students to address poverty as part of their vocations, the graduates will become a force to reduce the persistent poverty that diminishes our wealthy nation," Beckley said.
Beckley earned a Bachelor of Science degree in economics from the University of Illinois and a doctoral degree in Christian Theological Ethics from Vanderbilt University.
In 2002, Beckley was awarded Virginia's highest honor for education excellence: the State Council of Higher Education for Virginia's Outstanding Faculty Award.
He also has served as vice president and president of the Society of Christian Ethics, and in 2005-06 he was acting president of Washington and Lee University.