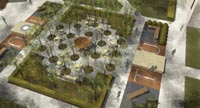 LEXINGTON, Ky.—Transylvania University alumni have united to renovate a gathering place in the heart of the campus—and provide funding for legacy scholarships while they're at it.
To raise money for the Alumni Plaza project, graduates of the university are asking donors to have their name—or the name of someone they'd like to honor—engraved on a brick that will be placed in the busy meeting area behind historic Old Morrison.
"Our plan is to transform Haupt Plaza into a true campus center—a place of pride and beauty for all of the Transylvania community past, present, and future," according to alumni representatives. "Hand-in-hand with this bricks-and-mortar component is the effort to create a new scholarship fund for legacy students to ensure that the campus will persist with new generations of Pioneers. We look forward to creating an inspiring and functional outdoor gathering space for future Transylvania students to enjoy."
The goal for the Alumni Plaza Brick Project is to raise at least $250,000 for the renovation, which also will include new trees, seating, and an outdoor classroom with Wi-Fi capability. The Transylvania Alumni Board and the Transylvania University Young Alumni Council already have received almost $135,000 in pledges.
These tax-deductible donations are an opportunity for the Transylvania community and friends to not only leave a mark on an institution that has been around for more than 230 years but also help shape the future through the scholarship fund.
For more information, contact John Davis at 859-281-3565.