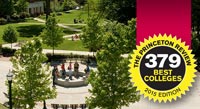 LEXINGTON, Ky.— The Princeton Review listed Transylvania University in its publication "The Best 379 Colleges," earning the school a spot in the top 15 percent of four-year colleges in the United States.
"Transylvania offers outstanding academics, which is the chief reason we selected it for the book," said Robert Franek, Princeton Review's senior vice president and author of "The Best 379 Colleges."
Along with institutional data, campus visits, and opinions of independent college counselors, inclusion in the list was determined by an 80-question survey of 130,000 students around the country, asking them to rate their school on several different criteria and report their campus experiences.
The book's two-page profile of Transylvania includes students' comments. They described Transylvania as "an extremely close-knit campus" and "a holistic education experience where one can grow intellectually and academically while participating in a vibrant social community." One student extolled Transylvania's diversity, saying, "We also have a huge population of individuals from different backgrounds, including differences in sexual orientation, class, religion, region, and political orientation."
Other comments praised the quality and accessibility of the professors, a vibrant student activities life, athletics, and the location of the university in downtown Lexington.
The Princeton Review is a New York-based education service company known for its education, admission, and test-preparation services.
For more information, contact Brad Goan, vice president for enrollment and dean of admissions, at 859-233-8242.