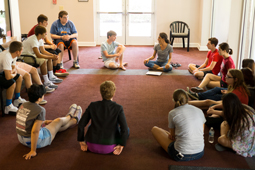 LEXINGTON, Ky.—Transylvania University's innovative August term not only helps recent high school grads transition to college, but it's also a valuable experience for the upper-class students who mentor them.
These juniors and seniors—called August term scholars—advise students during their first few weeks on campus about life both inside and outside the classroom and work with faculty to develop First Engagements seminars, which hone new students' critical, interpretative, and analytical abilities.
"August term scholars serve as role models and peer mentors for new students and help guide them on what it means to be a scholar and a member of the Transylvania community," said Michael Covert, associate vice president for retention and associate dean of students.  "They're responsible for helping plan and facilitate all out-of-classroom events and activities, including campus speakers, social events and outings around town."
As this year's term winds down, it's a good time to reflect on what the program means to the upper-class students.
"In my role as an August term scholar, I've found great joy in advising, instructing and mentoring first-year students—helping establish the foundation of their liberal arts education," senior Skyler Slone said.
These past three weeks have been a time of discovery for Slone as well, because he came to Transylvania before the program began in 2012. "I wish I had something like that in my first year," he said. "Now I've experienced it from a different perspective—one that is just as rewarding. I'm still learning new things every day."
Senior Elizabeth Hardt, a fellow August term scholar, said working with biology professor Kathleen Jagger on the seminars has been an amazing experience. "She gave me a sense of shared responsibility for the class. I wrote an outline of the syllabus; we each added things, and then we would talk about them."
She also enjoys interacting with August term students, who read a book based on the particular year's theme. "I like facilitating the discussion the most because they have really taken to the book and they have a lot to say about it."
Also, Hardt relates her extensive world travel during her time at Transylvania to helping first-year students adjust to college. "They're all kind of foreigners here in the beginning," she said. "No matter where they come from, college is a new environment. Even if they're from Lexington, this is a new setting. I think this helps them take a look at their own identity and the ways they want it to change in college."