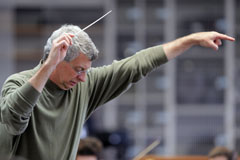 LEXINGTON, Ky.—Let's just call it an encore performance.
Ben Hawkins, Transylvania University professor of music, was recently named music director of the Central Kentucky Concert Band. Hawkins succeeds Peter LaRue, director of bands at Georgetown College, who has served as the CKCB's conductor for 20 years.
This will be Hawkins' second appointment with the CKCB. He served in the same position from 1985 to 1992.
"I am not the same person that I was in 1985," Hawkins said. "Then, I was barely into my 30s, and now I'm celebrating my 60th birthday.  I am interested to discover what will be the same about the experience, and what will be different. Mostly, though, I begin this new chapter with a much deeper appreciation of the centrality of human relationships to the act of music making."  
At Transylvania, Hawkins conducts the Concert Band and Chamber Orchestra and teaches courses in conducting, music theory and music education. The 2014–15 academic year will be his 30th as a member of the Transylvania faculty.  He lives in Lexington with his wife, Cyndee. They are the proud parents of two sons: Jay, a 2013 alumnus of Transylvania, and Turner, who recently completed his first year as a Transylvania student.
The Central Kentucky Concert Band was founded in 1976 by then-Transylvania band director Peter Martin and Dennis Van Hoose. It has operated continuously since then, presenting an annual series of concerts on the Transylvania campus and at the Lexington Opera House and performing at various civic celebrations throughout the Bluegrass region during the summer. The band is made up of adults from across Kentucky—attorneys, veterinarians, homemakers, engineers, pharmacists, business owners, administrators, civil servants, and teachers—who come together to share their love for music and the joy of performing.