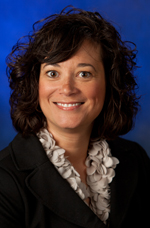 LEXINGTON, Ky.—Transylvania University has named Michele Gaither Sparks as its first vice president for marketing and communications.
Sparks, who has worked in higher education for more than two decades, has served as director of marketing communications for the University of Kentucky's Gatton College of Business and Economics for the past nine years. She will start at Transylvania on Aug. 18.
"I am thrilled to be joining the Transylvania community," Sparks said. "By creating this new vice president position, President Seamus Carey has made a strong statement about the importance of branding and marketing for the university. I am excited to be working alongside him and the members of the communications and marketing team to take Transy to the next level in its marketing strategies."
At UK's Gatton College, Sparks created and implemented the "Gatton United" capital campaign to raise $65 million for the expansion and renovation of the Gatton College facility. Additionally, she oversees all marketing and communications efforts for the college, as well as its major events, which have brought to campus state and international government officials, prominent CEOs and local business leaders.
Prior to working at UK, Sparks was the director of communications at Asbury Theological Seminary, where she managed the seminary's marketing and advertising efforts, as well as media relations. Additionally, she spearheaded an image and brand overhaul of Asbury's three main campuses.
"Michele's extensive experience in higher education marketing and communications will be a superb asset to Transylvania," President Carey said. "She will bring great energy to the job and play a key role in strengthening the university's marketing efforts."
Sparks will lead Transylvania's Office of Communications, which manages the university's main website, media relations, social media, publications, marketing, graphic design, internal communications, photography and videography.