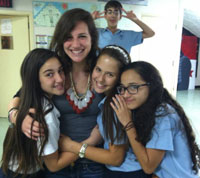 LEXINGTON, Ky.—Exactly one hundred years after the completion of the Panama Canal, citizens of the U.S. and Panama have come together again to open up new worlds. Transylvania University in Lexington, Ky., and Balboa Academy in Panama City, Panama, have partnered to launch a program that sends up to four education students from Lexington to Panama to teach at the school.
Students must complete an application and interview process to be selected. They then do eight to nine weeks of student teaching in Fayette County Schools followed by five to six weeks at Balboa Academy.
The collaboration began with an impromptu visit to the academy by Eduardo Nino-Moreno, former director of campus diversity and inclusion at Transylvania. Drawing on his many years of experience in Panama working with the United Nations, Nino-Moreno recognized the potential of a partnership between the two institutions. During March and April the inaugural exchange sent two Transylvania seniors—Melissa Moberg of Grand Prairie, Texas, and Brianna Hill from Lexington—to experience the remarkably different teaching environment at the private school that educates pre-K through 12th graders.
The schools are exploring ideas for future collaboration, and there will be a focus on recruiting the gifted Balboa Academy students to Transylvania. But giving Transylvanians a new perspective on education is the main goal of the partnership.
"Balboa was inspiring to me," said Moberg, a history major and education minor who will be teaching at Henry Clay High School this fall. "I brought back many great ideas for working with students in Kentucky, because I had the freedom to explore the ideas there."
Hill, a Spanish language and literature major who has enrolled in the Memphis Teacher Residency program to prepare to teach in urban settings, had a similar experience. She described the lively engagement of students, who were often out of their seats collaborating, as "controlled chaos." But, she added, "the kids would come back with this awesome work."
Erinn Magee, Balboa's high school principal, explained, "Student teachers trained to work in the U.S. public school systems who come to schools like Balboa Academy are exposed to different educational paradigms and a different approach to what is ultimately the same goal for all educators worldwide—student success."
Transylvania education professor Tiffany Wheeler agreed. "It is important for students to have multiple experiences in dealing with diversity of all kinds: gender, racial, socio-economic and religious. This is essential to being successful in relating to students, meeting their needs and making learning relevant for them. We want our students to be very successful in teaching any student who comes into the classroom."
Read more about the program and the two students who participated.