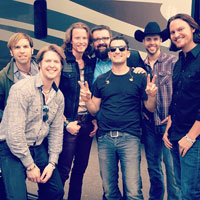 LEXINGTON, Ky.—Transylvania University will present Columbia Records recording artist Home Free on Oct. 20 at 7:30 p.m. in the Mitchell Fine Arts Center's Haggin Auditorium. The performance is part of Transylvania's Dorothy J. and Fred K. Smith Endowed Concert Series.
Home Free is a five-member a cappella group with wide appeal. The band is traveling coast-to-coast on its first headlining tour since being crowned champion of Season 4 of NBC's "The Sing-Off" in December. The tour will celebrate the "Sing-Off" victory, as well as the release of the group's debut album, Crazy Life.
Tickets will be available to the general public beginning Sept. 15. The performance is free, but tickets are required and must be picked up at the information desk in the lobby of the William T. Young Campus Center before the day of the concert. There will be no online ticket reservations and no "will call" accommodations. Each person coming to the Campus Center can secure up to two tickets. Beginning Sept. 8, Transylvania students, faculty, and staff can get tickets by showing their Transylvania ID.
Since the "Sing-Off" win, Home Free has performed more than 80 shows in 2014 alone—from theaters and clubs during the 32-city, 36-show Sing-Off Live Tour, to stages and amphitheaters at some of the summer's biggest events, including the CMA Music Fest in Nashville, Tenn.,  and The Boots & Heart Festival in Ontario, Canada.
"This is such an exciting new step in our musical journey—to be able to tour the country with our own show and give so many of our fans the first chance to see us live," says group co-founder Chris Rupp.
Bass Tim Foust adds, "We'll be lending our signature sound to some new country songs, as well as our originals and fan favorites, with, of course, a healthy dose of Home Free humor. We guarantee a good time."
The Smith Concert Series at Transylvania University was created in 2007 by the late Dorothy J. Smith, a 1942 Transylvania graduate, to bring high quality musical performances to Transylvania. The series is named for Smith and her late husband, Fred K. Smith, a 1940 Transylvania graduate. Previous concerts in the series include Anonymous 4, Canadian Brass, Chanticleer, Kronos Quartet, Tiempo Libre and the Rose Ensemble.
The William T. Young Campus Center is at the corner of North Broadway and West Fourth Street and is open Monday–Thursday, 8:30 a.m. to 11 p.m.; Friday from 8:30 a.m. to 8 p.m.; Saturday from noon to 8 p.m.; and Sunday from 1 p.m. to 11 p.m. Parking for ticket pick-up will be available in the circular drive across Broadway from the Campus Center or in the small lot on the north side of Fourth Street across from the Campus Center. For more information, contact Diane Fout, director of the Campus Center, at (859) 233-8133.