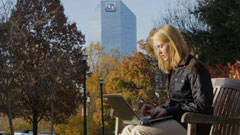 LEXINGTON, Ky.—Members of Transylvania University's Board of Regents are inviting Lexington residents and others in the central Kentucky area to view a brief film about Transylvania's deep connections to the city. The free screening will be at the Kentucky Theatre Saturday, July 5, at 11 a.m.
The three-minute film was produced by Bullhorn Creative, a Lexington marketing firm, and features several community members talking about the various ways Transylvania contributes to the cultural, intellectual, and economic vibrancy of the city.
Billy Van Pelt and Marcia Cone, co-chairs of the board's Friends Relations Committee and Transylvania graduates, will introduce the film. According to Van Pelt, "We collaborated with community stakeholders to create a positive message that gives the entire city ownership in making the university's strategic plan, Transylvania 2020, a success. The video will be used to garner support and engagement from individuals across the country and to encourage connections with both Transylvania and Lexington."
Transylvania has been an academic and cultural hub in Lexington for more than 225 years. Many of its graduates choose to stay in Lexington and contribute to the economic vitality of the community as businesspeople, artists, educators, community leaders, parents and volunteers.
Cone addressed Transylvania's role in the community: "Transylvania University has been an integral part of the history of Lexington—and the state of Kentucky—and has influenced the history of our nation. It has remained a stable core of our inner city neighborhood for over two hundred years and continues to expand its footprint and economic impact."
Those associated with Transylvania are proud of the institution's rich history as well as its ties to a thriving urban area. One of the key distinctions of Transylvania when compared to other esteemed liberal arts colleges across the U.S. is its location in the very heart of a dynamic city surrounded by a world-renowned rural landscape. The university hopes to establish even stronger bonds with the community as it takes on the challenges of converting its ambitious strategic plan into reality.
"Transylvania is proud to share with the community a glimpse into the past, present and future of this remarkable college," said Kirk Purdom, Transylvania's vice president for advancement. "Those of us who work and study here know its value and impact, and we are eager to build upon past achievements as we embark upon new promising ventures. There is only one Transylvania, and we look forward to partnering with those interested in enhancing educational access and excellence at this institution steeped in both history and forward momentum."
Board members hope local residents will include a brief visit to the historic and recently renovated Kentucky Theatre in their Saturday morning plans, as they travel between the Farmers Market, children's activities and other weekend errands.
Cone reiterated the invitation. "Join us. Be a part of Transylvania's future and the realization of its strategic plan."