LEXINGTON, KY— On Saturday, Aug. 9, Transylvania University will host an All Star Jazz Showcase of musicians on the lawn of Old Morrison during the 7th annual Lexus Smooth Jazz Fest.
Presented by the African American Forum, Inc., the Summer Breeze Saturday Concert will feature singer Maysa Leak, keyboardist Brian Simpson and saxophonist Kim Waters.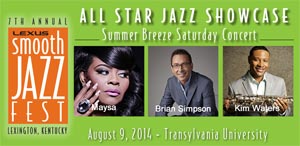 Maysa's sensuous, sublime and lush voice is featured on numerous solo albums. She has been a member of Stevie Wonder's Wonderlove, a vocalist in Incognito and a guest on "Oprah" and "The Tonight Show.
Simpson is another smooth jazz favorite. He is not only a solo performer but also serves as music director and featured keyboardist for the Dave Koz Band. A winner of the American Smooth Jazz Keyboardist of the Year Award, Simpson often is a guest on national radio shows.
The other all-star, Waters, has sold more than a million albums and performed with legends such as Patti LaBelle and Isaac Hayes. He is known for his romantic ballads, which are compiled on "Sweet and Sexy: The Ultimate Collection Of Kim Waters' Romantic Classics."
This is the third year Transylvania has hosted the event.  Gates will open at 5 p.m. and the concert will begin at 7:30.
The African American Forum is a non-profit organization based in Lexington. The group supports African Americans' cultural, artistic and educational achievements. Money raised at the Lexus Smooth Jazz Fest will benefit the African American Forum Endowment Fund.
Free parking is available in designated lots on campus. A limited number of tickets are still available. For more information or to purchase tickets, call 859-255-2653 or visit AAFinc.com.