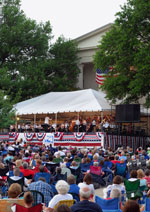 LEXINGTON, Ky.—Keeping a  longstanding, locally-beloved tradition alive, Transylvania University will again host the annual Patriotic Concert on the Old Morrison lawn Thursday, July 3, at 8 p.m.
The free concert draws around 5,000 people to campus each year to spread out blankets, bring a picnic dinner and enjoy music celebrating America's heritage. Complementing the city's Fourth of July Festival's theme of "Celebrating Heroes," this year's music will be performed by the 202nd Army Band of the Kentucky National Guard. University of Kentucky professor and director of the University of Kentucky Opera Theatre Dr. Everett McCorvey will direct the singers, and Dixieland jazz band Young at Heart will perform in Gratz Park before the concert.
"It's a wonderful evening," Renee Jackson, president of the Downtown Lexington Corporation, said. "With the 'Celebrating Heroes' theme and the 202nd Army Band performing, it will be a real treat. If you haven't attended one, it is definitely worth coming downtown and experiencing."
Jackson said that especially with this summer being the 70th anniversary of D-Day, this year's event will be "extra special."
Free parking is available in the university's general lots. Guests are encouraged to bring their own dinners, and food and beverages will be available for purchase at the event. Alcohol is prohibited.
"With the rich history of Transylvania, it just makes it all the more special to be able to use the steps of Old Morrison and have that as the backdrop," Jackson said. "It's a beautiful sight to see the American flag hung up there."