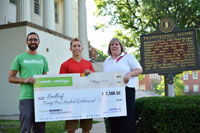 LEXINGTON, Ky.—Browning Smith, a 2014 graduate of Transylvania University from Russellville, Ky., has won a national sustainability contest sponsored by dining service provider Sodexo. As part of his prize, Sodexo donated $2,500 to Seedleaf—a Lexington-based non-profit committed to increasing the amount, affordability, nutritional value, and sustainability of food available to people at risk of hunger in central Kentucky—which Smith chose as his favorite local charity.
The "Send Ur Message" contest was part of a national campaign inspired by Sodexo's Better Tomorrow Plan, which promotes global sustainability. Smith, a biology major, was selected after filling out a survey about what he felt Sodexo could do to improve its food service when it comes to sustainability. He and three other winners received a $250 Visa gift card along with the $2,500 each winner donated to the food-based charity of his choice.
After taking an interdisciplinary course at Transylvania that focused on the philosophy and sociology of gardening as well as hands-on learning about soil science and composting, Smith then volunteered with Seedleaf. The organization was a logical choice to receive his check.
"I knew they were doing great things in the community right down the street," Smith said. "They're the other end of the food industry, where Sodexo is the larger, more industrial side, and the food system needs to be changed from both ends."
Seedleaf has partnered with Transylvania and Sodexo for three years, picking up the pre-consumer waste from the dining hall and using it as compost in its community gardens around Lexington. The $2,500 will be used to maintain those gardens.
"We have 17 free, community, you-pick gardens around town, and this will help offset the cost of one of those," Ryan Koch, executive director of Seedleaf, said. "This is really great."
James Perry, Sodexo area marketing coordinator, added, "With the level of student enthusiasm and participation on campus and their commitment to sustainability, it is no surprise that Transylvania produced a winner for this Sodexo national contest, It is definitely a highlight to our ongoing partnership in the areas of environmental awareness and sustainable practices."