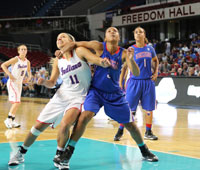 LEXINGTON, Ky.—Tickets are still available for the Kentucky Lions All-Star Classic Friday, June 13, in the Clive M. Beck Center at Transylvania University. They can be purchased ahead of game day at www.kyallstars.net or at the door beginning at 4:30 p.m. Bench seating is $20 and chair-back seating is $30. Tip-off for the girls' game is at 5:30 p.m., and the boys play at 8 p.m.
The event, which has been held since 1940, pits the best high school senior basketball players from Kentucky and Indiana against each other in an annual matchup that raises money for the Kentucky Lions Eye Foundation.
The current agreement will keep the game at Transylvania for three years, the first time it has been held in Lexington since 1996. Lexington's WKYT-TV will broadcast the event live on the CW Network in Lexington and WYMT in Hazard, Ky., along with WKYT affiliates across the state.
"It's going to be a really great event," Director of Athletics Holly Sheilley said. "Any time we can showcase not only Transylvania, but our city, I get excited."
The game will have an especially Bluegrass flavor this year, as three of the four players of the year on the teams have committed to play college basketball in Kentucky. Kentucky Mr. Basketball Quentin Snider from Ballard High School signed with the University of Louisville; Indiana Mr. Basketball Trey Lyles of Indianapolis Tech will attend the University of Kentucky; and Kentucky Miss Basketball Ivy Brown from LaRue County High School will play at Western Kentucky University. In all, 11 players on the rosters have signed to play within the commonwealth.
"We are honored to work with Transylvania, WKYT and others to host an event with such a rich history that supports the amazing work of the Kentucky Lions Eye Foundation," Terry Johnson, executive director of the Bluegrass Sports Commission, said.
Located on one of the nation's most historic college campuses, Transylvania's Beck Center, at the corner of North Broadway and West Fourth Street, is a state-of-the-art facility in the heart of downtown Lexington. It seats 1,200 people in an intimate setting perfect for high-stakes basketball. Transylvania's storied basketball program has used the facility for its NCAA Division III games since 2001.
Free parking is available in the university's general parking lots.