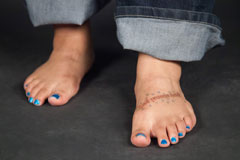 LEXINGTON, Ky.—The Lexington Tattoo Project, the acclaimed multimedia community art project imagined by Transylvania art professor Kurt Gohde and English professor Kremena Todorova, received more national attention by being named to the Americans for the Arts' Public Art Network 2014 Year in Review.
Each year the Public Art Network recognizes 50 of the most outstanding public art projects from around the country. Public arts professionals serve as jurors to review the applications.
The Lexington Tattoo Project brought together more than 250 people from around Lexington to be tattooed with words from a poem about Lexington, "The _____________ of the Universe: A Love Story," written by 2003 Transylvania graduate Bianca Spriggs. Gohde and Todorova photographed each tattoo and created a video by digitally stitching together the photographs. When viewed together, the tattoos—which include a pattern of small circles surrounding the inked words—reveal the number "4" inside a large circle, representing New Circle Road, which encircles downtown Lexington. The video was underscored by a composition by Lexington musician Ben Sollee, and a 160-page coffee table book featured a portrait of each of the tattoos.
"We were excited and honored when we found out that the Lexington Tattoo Project was selected," Todorova said. "With the publication of the coffee table book, we continue to receive inquiries from individuals and organizations about working with them on their own tattoo projects."
The pair has received word that they are finalists for a Detroit Knight Arts Challenge Grant, which they will use to fund a Detroit Tattoo Project modeled after the Lexington version. Boulder, Colo., has already initiated its own tattoo project with assistance from Gohde and Todorova, and there are other potential opportunities on the horizon.
"Because of the success of the Lexington project, we were approached by a sponsor who challenged us to consider what a global version of it might look like," Gohde said. They are planning to launch that project in September.
---
More information:
Lexington Tattoo Project announces book release