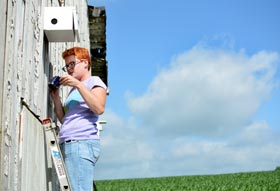 LEXINGTON, Ky.—Transylvania biology professor Becky Fox palmed baby sparrows from a nest on the side of an old barn.
As she weighed the chicks on a digital scale, the parents probably weren't far off. Sometimes they watch, raising a fuss.
How particular birds cope with ruffled feathers is actually part of what Fox, a group of Transylvania students and University of Kentucky professors David Westneat and Matthew Schofield are studying this summer at the sprawling Coldstream Farm research facility. A four-year, $670,000 National Science Foundation grant is funding the project.
Depending on personality, birds react differently to environmental variability. These researchers want to know how that affects parental care. Fox measures the parents' blood levels for two hormones—corticosterone, which varies as individuals deal with environmental stress, and prolactin, which broadly underlies how these house sparrows raise nestlings.
To mix things up, researchers swap chicks and attach objects to the nests. When faced with stressors such as these, some parents try harder to feed offspring; others don't. Fox wants to know if hormonal differences are at work.
"The field of animal personality is new," she said. "We don't have a handle on the physiology." There is great interest in describing these individual differences quantitatively. And research such as this could help shed light on human parenting.
Westneat is studying how sparrow parents gamble by visiting either areas where they know there will be a small but reliable amount of food or going where there is less of a chance there will be food at all but, if it's there, the payoff is greater, according to UK.
The grant for the study—which is called "Parental care and the integration of personality and plasticity at multiple levels of phenotypic variance"—is paying for new lab equipment at Transylvania and for students to work in the field. Transylvania and UK share the funds.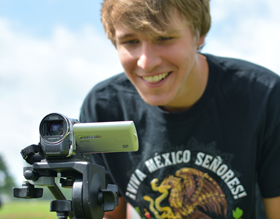 The students have been invaluable to the large project, which involves monitoring more than 150 nests. "The best way to learn science is to do science," Fox said.
She and other Transylvania professors are conducting research with students this summer. "I hear a lot of concerns from prospective students about the availability of research opportunities at a small school like Transy," Fox said. "Those students don't need to worry—the faculty here are very engaged in scholarship and happy to mentor them. This grant is a recognition of that."
The students said the work helps them get experience outside the confines of a lab, and they're finding out what they'd like to pursue in grad school.
"I've always wanted to work in the field," rising sophomore Clay Huffman said. "I just thought it would be nice to test the waters, see what I like about it."