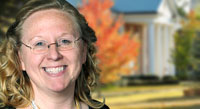 LEXINGTON, Ky.—Karen Anderson, coordinator of community service and civic engagement at Transylvania University, has been appointed to the Kentucky Commission on Community Volunteerism and Service by Gov. Steve Beshear.
The 25-member commission was created in 1994 and serves as a conduit for funding supporting Kentucky AmeriCorps programs. Commission members review and recommend funding requests for service opportunities all around the state, a process Anderson has become very familiar with during her nearly 20 years at Transylvania. She was asked to apply by former commissioner Eileen Cackowski.
"I'm grateful she asked me," Anderson said. "I think being a commissioner will be a natural part of what I'm already doing at Transylvania. Commissioners go out and see what's going on and represent our commonwealth and our government, and I've been doing that as part of my job for years. So I'll be able to keep getting out and connecting, not just for Transylvania, but on behalf of our commonwealth."
AmeriCorps is a national program that works to place people in full-time service opportunities in exchange for a living stipend. Opportunities include mentoring and tutoring in Kentucky schools, working with homelessness prevention and providing in-home services to seniors with disabilities. Part of Anderson's time as commissioner will be spent organizing the 20th anniversary of the program, which will take place around the National Day of Service Sept. 11.
"Here in Kentucky we'll be using that opportunity for the swearing in of our new AmeriCorps members, and we'll be having rallies as well as the regular trainings that take place as part of the swearing in," she said. "AmeriCorps does amazing work for our communities and our nation as a whole."
Anderson said she's most excited about the chance to help more Kentuckians learn the value of service and give recognition to those who have already taken up that charge.
"If people realized how many volunteers make things happen in our commonwealth, I think we'd take a greater pride in it, and we'd have more people who volunteer," she said. "They're not going to say 'I'm volunteering because I want you to recognize me,' so we want to take the opportunity to actually recognize them and say, 'We couldn't do this without you.'"