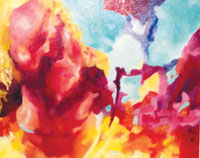 Kara Sparks, "Tayler," oil on canvas
LEXINGTON, Ky.—Transylvania University's Morlan Gallery wrapped up the academic year by awarding 14 prizes to deserving students who submitted artwork for the annual Juried Student Art Exhibition. The university's Fine Arts program and the dean of the college announced the awards May 2 at the opening reception. The exhibition remains open to the public from noon to 5 p.m. weekdays through May 16.
Four students were recognized with $50 Honorable Mentions: senior Jennifer Smith (Fort Mitchell, Ky.) and sophomores Elizabeth Garduno (Fairmount City, Pa.), Trent Redmon (Burlington, Ky.) and Kristen Frost (Sextons Creek, Ky.).
Five Excellence in Media prizes, worth $100 each, were awarded to students who produced exceptionally strong work in various media: junior Savanna Barnett (Harrodsburg, Ky.) for digital media; junior Luke Gnadinger (Fisherville, Ky.) for ceramics; junior Chelsea Pharris (Leitchfield, Ky.) for drawing; sophomore Kara Sparks (Pataskala, Ohio) for painting; and junior Stacey Venneman (Southgate, Ky.) for sculpture.
The Fine Arts program selected two pieces, Sparks' painting "Tayler" and Pharris' drawing "Wii Controller," to become part of the permanent collection displayed in the Mitchell Fine Arts Center.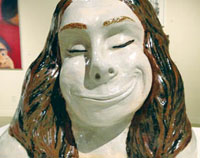 Stacey Venneman, Self-portrait, ceramic

Dean Michael Bell personally selected two pieces, which will be added to the university's permanent collection, for the prestigious Dean's Purchase Award: Smith's "Oreo" and Venneman's "Trophies of Mediocrity."
Senior Amanda Stoddard (Crittenden, Ky.) received the prestigious Nana Lampton Prize. Named in honor of the Louisville artist and businesswoman, the prize was awarded to Stoddard by the Fine Arts faculty in recognition of her outstanding creative vision, strong work ethic and natural leadership.
Images of the prize-wining works can be viewed on the Morlan Gallery's website.
The Juried Student Art Exhibition is the final exhibition of Morlan Gallery's annual schedule. The gallery reopens in September with a new season of four professional shows from international, national, regional and local artists, as well as two student exhibitions.
The Morlan Gallery is on the main level of the Mitchell Fine Arts Center, located off Fourth Street between North Broadway and Upper Streets. Free parking is available in the adjacent lot. The Mitchell Fine Arts Center is wheelchair accessible. For more information, contact gallery director Andrea Fisher at (859) 233-8142 until May 30.