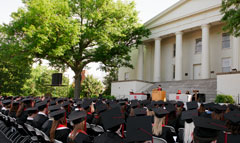 LEXINGTON, Ky.—Kentucky Gov. Steve Beshear will speak at Transylvania University's  commencement ceremony Saturday, May 24, at 9:30 a.m. in front of historic Old Morrison. Two hundred and forty-six students will receive bachelor's degrees before they head off to graduate and professional programs or enter the workforce with the critical thinking and creative problem solving skills that a liberal arts education provides—and the current economy demands.
"Transylvania University has produced smart, well-rounded and well-equipped graduates longer than any other institution in Kentucky, and I am honored to serve as the commencement speaker," said Gov. Beshear. "I'm looking forward to sharing a few pieces of hard-earned advice before these bright young men and women venture out into Kentucky and the rest of the world. I am confident that they're going to make our Commonwealth very proud."
A two-term governor, Beshear has championed education initiatives that improved the state's rankings in areas such as the number of young adults who have received a high school diploma or its equivalent and the number of high school graduates who go on to college.
Transylvania senior Karl Alexander Schmitt, a biology major from Fort Mitchell, Ky., will give the student address, "What's in a Name?"
During the commencement ceremony, Transylvania will also award an honorary Doctor of Humane Letters to two alumni: Lula Morton Drewes, class of 1967, and Patrick H. Molloy, class of 1963.
Drewes, a Lexington native and graduate of Bryan Station High School, was the first African American student to receive a degree from Transylvania University. Drewes went on to earn a doctorate from Vanderbilt University and today is a clinical psychologist and licensed wellness coach.
Molloy, formerly an assistant U.S. attorney in both Texas and Kentucky who has enjoyed a long and varied legal career, is also a Lexington native. He received a law degree from the University of Kentucky in 1967. Unbeknownst to Drewes, Molloy was responsible for providing the scholarship funds necessary for her to complete her education at Transylvania.
Molloy's friend and co-conspirator, Michael Mitchell '63, will receive the President's Award for his role in supporting Drewes' matriculation at Transylvania.
(Read more about their story.)
The class of 2014
During their four years on campus, the graduating seniors have distinguished themselves in many ways:
Thirty-six percent of the graduates will receive honors in their academic program areas, which include such varied disciplines as computer science, German studies, international affairs, business administration, sociology/anthropology, exercise science, educational studies, physics, theater, music technology and one of the university's newest majors, the multidisciplinary philosophy, politics and economics.  

Four seniors designed their own majors in women's studies, neuroscience (which is now a regularly offered major) and environmental studies and sustainability.

Fifty-eight percent of the seniors studied abroad or did internships in 36 countries, including Argentina, China, Cuba, Denmark, Dominican Republic, India, Madagascar, New Zealand, Norway, Tanzania and Turks & Caicos.

Over four years, the seniors have devoted more than 2,000 hours to community service and advocacy.

A number of graduates will continue their service in various ways, including by joining Teach for America in Mississippi, St. Louis, and Memphis; helping with political campaigns; and working as a marine science educator on board the schooner Adventuress through the non-profit organization Sound Experience based in Port Townsend, Wash.

Other graduates have received prestigious grants and fellowships to continue their educations in various ways and at a number of institutions, from pursuing a Ph.D. in biochemistry, cellular, and molecular biology at Johns Hopkins University; to studying law at the University of Kentucky and Penn State; to studying culinary arts at Le Cordon Bleu in New Zealand; to studying at Indiana University's School of Public and Environmental Affairs; to analyzing tobacco advertising at Duke University; to translating ancient Chinese texts at a Buddhist monastery in California. 
---
Read the Lexington Herald-Leader article.