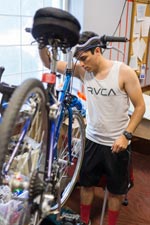 LEXINGTON, Ky.—Transylvania University's enthusiasm for bicycling kicks into high gear this month with a wide range of activities—from cycling through France to riding to a local pie shop.
One of the more popular May cycling events is Bike to Work Day, which is Friday, May 16. Faculty, staff and students will meet at Shriners Hospital for Children on Richmond Road at 8 a.m. and ride as a group to Transylvania. This will be the fourth year the university has celebrated Bike to Work Day.
Also this month, 18 students made a trek to Europe for the May term class, Transy's Tour de France. During this unique trip to Paris and the South of France, students immerse themselves in French society and explore the past.
Other bicycle-related events for the Transylvania community during National Bike Month include: a jaunt to Missy's Pies on May 7; the Bike for Blooms and Bon Bons on May 11 to the UK Arboretum; a Legacy Ride and picnic May 14; and a ride from Wallace Station on May 18.
"Transylvania is a great place for biking," Sustainability Director Angela Poe said. "We've got the bike maintenance shop on campus to support those with their own bikes, and the loan program for those who weren't able to bring their own or are trying out biking for the first time since childhood."
The university recently expanded the free loan program so bikes can be checked out for a week, and it installed a 24-hour fix-it station in Forrer Hall to complement the Transy Bikes! free repair shop in the same building.
On the heels of these upgrades, the 7.5-mile Legacy Trail for cycling and walking is slated to be extended through campus down Fourth Street from Jefferson Street to Elm Tree Lane.
"We are still in the preliminary stages of development," according to project manager Keith Lovan. "There will be public meetings to discuss the project later this year." Construction won't start until late this year or 2015.
The trail now runs from the Kentucky Horse Park to Bluegrass Community & Technical College next to Transylvania's new Athletics Complex.
Another civic initiative, Bike Lexington, plans a variety of cycling events this month, including a Family Fun Ride on May 31.
Poe sees how Transylvania benefits from its location. "Over the past few years, Lexington has done a lot to make downtown more bike-friendly, and there are awesome country rides that are easily accessible from campus," she said. "How could we not bike?"