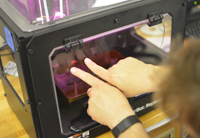 LEXINGTON, Ky.—A liberal arts education is about more than sitting under a tree, pondering the meaning of life. For example, Transylvania University students explore technology's cutting edge with 3-D printers.
Computer science professor Kenny Moorman teaches a May term course that uses the school's two MakerBot 3-D printers and a 3-D scanner to create functional and whimsical objects. Students were intrigued by the somewhat unusual class offering. "It actually filled up faster than any class I've ever taught," he said.
3-D printing is a relatively new technology that allows you to produce a three-dimensional solid object from a digital model. An existing item can be scanned using a 3-D scanner, or an object can be designed from scratch using computer software. The "printing" involves fusing successive layers of material of various shapes and sizes. It can be an inexpensive and practical way for designers from a variety of industries to produce concept models or small quantities of parts.
Having this technology on campus offers a somewhat rare opportunity. Moorman said that students at small liberal arts schools don't usually get a chance to play with this kind of technology.
During the class, students have printed out objects such as a fully jointed hand, which may eventually be connected to a robot, and a fully functioning crescent wrench. They printed some not-so-practical stuff, too—check out the video.
As is typical in a liberal arts program, class discussion ranged across several disciplines. For instance, students talked about the ethical dilemmas of 3-D printing, including trademark and copyright issues. They raised the question: What if you could print human organ replacements but only the super-wealthy could afford them?
The class attracted students with a variety of interests. Senior Toni Jackson of Lexington said it's a good way to merge two things she enjoys: computer science and art. "It's a really fun and creative technology."
As for what 3-D printing means for our future, sophomore Wilson Boyer of Prospect, Ky., said: "It seems like it's not just going to be a device that you make toys with, but it will actually change our society."