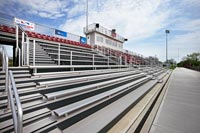 LEXINGTON, Ky.—Transylvania University will open its arms to the neighborhood Saturday, April 26, with the dedication of its $10-million Athletics Complex.
Public tours will begin at 12:30 p.m. at the 555 West Fourth Street facility and resume after the 1:30 dedication ceremony. Then, at 3, the women's lacrosse team will take on Defiance College. The event coincides with Transylvania's Alumni Weekend.
"I consider the dedication to be like a neighborhood open house," said Mike Vetter, special assistant to the university.
The facility, which is home to the university's field hockey, lacrosse, soccer and track and field teams, will benefit not only the college but also the surrounding community.
The transformation of an old tobacco warehouse site is part of a wider revitalization effort in the area that includes the Newtown campus of Bluegrass Community and Technical College as well as new restaurants and entertainment venues along Jefferson Street. West Fourth Street recently received a facelift, going from one- to two-way traffic and getting sidewalks and bike lanes.
The community will be able to use the facility for events such as clinics and tournaments.
The Athletics Complex features an 860-seat grandstand, an eight-lane track, and an artificial turf field with lights for night games. The 18,000-square-foot field house has locker and conference rooms, coaches' offices, public restrooms, a sports medicine facility, concessions and a ticket booth.
The university's teams began playing on the field this past October while construction continued on the field house. A large crowd that came out on that rainy, cold opening day got to see Transylvania's women's soccer team win in the last seconds of sudden death.
The Athletics Complex, which is the first major construction project in the Transylvania 2020 strategic plan, has already led to new recruits. It also frees up existing land on campus for future development and activities such as intramural sports.
Plus it's a short walk from Transylvania's residence halls, which is a major perk for athletes who have had to travel by bus to practice and games.
"We're absolutely excited," Athletics Director Holly K. Sheilley said. "It's a state-of-the-art facility that I think the community and the university can be very proud of."