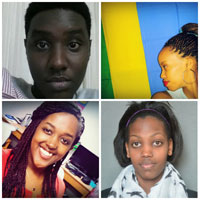 LEXINGTON, Ky.—As part of its growing international engagement, Transylvania University plans to mark the 20th anniversary of the Rwandan genocide Friday, April 11.
The school, which has four students from the central African country, will remember the atrocity with a candle lighting ceremony, poetry readings, coffee, tea, food and a musical performance by the Dreamin' Rovers, who will debut a new song based on hope and renewal.
Because many college-age students weren't even born in 1994 when the genocide killed 800,000 to a million people, this will be an educational opportunity.
The wider community is welcome to attend the event, which begins at 9 p.m. in Back Circle, the grassy courtyard off West Fourth Street. Lexington has a larger Rwandan community than many people would expect, said Serenity Wright, international student services coordinator. "It's important to recognize what brought these residents here and let them know they're respected members of our community," she said.
Rwandan students from Transylvania, the University of Kentucky and Bluegrass Community & Technical College will speak at the event about the future of Rwanda, how they see their role in continuing to develop the country, and what their hopes, dreams and goals are.
The theme for the event, which is being celebrated around the world, is "Remember, Unite and Renew." Everyone is encouraged to wear gray the week leading up to the event to mark the anniversary. Those who come out to the Transylvania event are encouraged to bring a book (any kind, new or used) to donate to the International Book Project.
The entrance to Back Circle is off Fourth Street just west of North Broadway behind Forrer Hall. Free parking is available. For more information about the event, contact Wright at 859-233-8805 or swright@transy.edu.