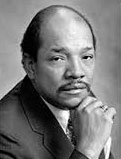 LEXINGTON, Ky.—The 2013-14 academic year marked the 50th anniversary of the desegregation of Transylvania University. Fifty years ago Transylvania admitted its first African American student into the regular degree program. Lula B. Morton (now Drewes), a Lexington resident and graduate of Bryan Station High School, arrived on campus in 1963. Four years later she graduated with a degree in psychology.
As part of this year-long celebration—Still Overcoming: Striving for Inclusiveness—Transylvania will sponsor a panel March 27 to discuss "Integration on U.S. Campuses Today." The discussion will be led by Rodney Coates, interim director of Black World Studies at Miami University of Ohio and a professor in Miami's Department of Sociology and Gerontology. The event is at 3:30 p.m. in the Campus Center. It is free and open to the public.
Coates received his Ph.D. in sociology from the University of Chicago and specializes in race and ethnic relations. He has written about social stratification, social justice and the challenges black citizens face in such areas as politics, education and the new global society.
Panelists will include:
Carole Barnsley, assistant professor of religion and a member of Transylvania's Diversity and Inclusion Engagement Team
Matthaus Huelse '13, a graduate student in Public Health at the University of Kentucky and a native of Germany
Dorcas Washington '16, a representative of the university's Black Student Alliance
Serenity Wright '05, Transylvania's international student services coordinator
The William T. Young Campus Center is located on the southwest corner of North Broadway and West Fourth Street. Free parking is available in the university's general parking lots along Fourth Street. For more information about the panel discussion, contact Transylvania sociology professor Brian Rich at brich@transy.edu.