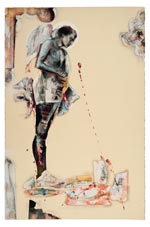 LEXINGTON, Ky.—The world premiere stage production of Maurice Manning's award-winning book of poetry "Lawrence Booth's Book of Visions" debuts March 27 at 7:30 p.m. in Transylvania University's Lucille Caudill Little Theater. This ensemble performance portrays friendships and fantasies from the colorful life of young Lawrence "Law" Booth who imagines incredible things to escape his troubles. Set in Appalachia in the 1970s and 80s, the coming-of-age poetic saga focuses on the adventures of the rebellious Booth, his scurrilous Mad Daddy, his best friend Black Damon, the perhaps imaginary Missionary Woman and Red Dog, his beloved canine pal.
Drawn directly from Manning's poems, this theatrical adaptation features vivid monologues, startling revelations, choral storytelling, Appalachian music and many weird and wondrous visions all brought to vigorous life by Transylvania student actors and a professional production team.
"Lawrence Booth's Book of Visions" took Manning, an English professor and writer-in-residence at Transylvania, more than 10 years to write. It was a project he began right out of college, and although he felt unsure of what he was doing, he was certain he wanted to be a writer.
"I didn't really know what that meant or how to go about it," Manning said. "I just wanted to be a person who read books and carried around a pen and scraps of paper, someone who studies the world for its meaning."
Manning must have figured it out. "Lawrence Booth's Book of Visions" won the 2001 Yale Series of Younger Poets competition. "Manning's unfaltering audacity is equaled by its artistic control, and the result is an astonishing collection, still more astonishing as a first book," wrote Pulitzer Prize-winning poet and contest judge W. S. Merwin in his foreword. "The individual poems…bring on a cast of characters who recur in a spectrum of forms and phantoms, luminous shapes altering the same kaleidoscope."
It was this cast of characters that Transylvania theater professor Michael Bigelow Dixon found compelling when reading the work of his fellow faculty member. Dixon says, "I read 'Lawrence Booth's Book of Visions' and recognized how theatrical it was: There are continuing characters, a journey filled with dramatic events and a unique poetic voice. Then I attended Maurice Manning's readings and realized how vibrant and engaging his work is when read aloud."
It took theater faculty and students four months of meetings, comparisons of experimental drafts and conversations exploring the thematic and theatrical intent of the piece. Different versions of the script were read aloud multiple times by the adaptors and members of the creative team—designers, stage manager and producer. The theatrical adaptation was a team effort consisting of Dixon; Lexington-based Project SEE Theatre professionals Evan Bergman, Ellie Clark and Sullivan White; and first-year Transylvania student Theodora Z. Salazar.
Dixon describes the final product as a "bildungsroman," or coming-of-age story, divided into three parts that align with Booth's childhood, adolescence and young adulthood. "It's a portrait of the artist as a young man in Appalachia," explains Dixon, and each section includes six to nine poems that offer insight into the development of his character through conflict, friendship and fantasy.   
The production includes a prologue and epilogue, reflecting Maurice Manning's own introduction and conclusion to his collection of poems. Manning, Dixon and Ellie Clark recently talked with author Silas House about "Book of Visions" on the radio program "Hillbilly Solid." The interview starts at 39:41 and may be heard here.
In addition to enjoying the play, guests can see a faculty/student photography exhibition curated to reflect the themes of the production and Transylvania's many connections with Appalachian culture. The works will be on display near the theater entrance. And the Transylvania University a cappella group, TBA, has composed and will sing the poem, "A Prayer Against Forgetting Boys," at a limited number of performances.
If you go

Performances of "Lawrence Booth's Book of Visions" will be March 27–29, 7:30 p.m.; March 30, 2 p.m.; April 3, 5, 7:30 p.m.; and April 6, 2 p.m.
All performances are staged in the Lucille Caudill Little Theater, on Transylvania's historic campus, located off Fourth Street between North Broadway and Upper Streets. There is ample parking in the adjacent Mitchell Fine Arts Center parking lot and handicap/disability parking and seating are available for all the productions.
Tickets are $10 each for general admission and $5 each for the Transylvania community. Tickets may be reserved by calling the box office at 859-281-3621 weekdays March 24-28 and March 31-April 4 between 1–4 p.m. The Little Theater box office is also open one hour prior to performances. For more information, contact Transylvania's fine arts office at 859-233-8141.