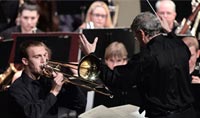 LEXINGTON, Ky.—April is Jazz Appreciation Month, so sure, Transylvania University students will demonstrate their chops. Also on the program for next month's series of free concerts is a mix of musical offerings—from baroque to a hot-off-the-press world premiere.  All performances begin at 7:30 p.m. in the Mitchell Fine Arts Center's Carrick Theater and are open to the public.
Chamber Orchestra "Baroque and Back"

Wednesday, April 2
The Transylvania University Chamber Orchestra will perform music from Handel to Ellington and will feature soprano Rebecca Keith and music faculty member Scott Heersche on trumpet. Keith, a junior and an applied voice major, won Transylvania's 2014 Concerto/Aria Competition. The concert also will include selections by Durante, Poulenc and Stravinsky.
Choral Concert
Friday, April 4
Three choirs will raise the roof. Just back from a regional tour, the Transylvania University Choir will be led by student conductors Rebecca Keith, George Wu and Matthew Durr. The evening will focus on the Transylvania Singers, a women's chorus conducted by music instructor Joanna Manring; and Pioneer Voices, a men's chorus conducted by Gary Anderson.
Jazz and Percussion Ensembles
Tuesday, April 8
The jazz ensemble will heat up the stage with classic jazz and funk tunes. Under the direction of music faculty member Valerie Evans, students will perform standards such as "Sweet Georgia Brown" (a.k.a. the Harlem Globetrotters theme) and "Watermelon Man," which will be a chance for most jazz ensemble members to perform improvisational solos. Also, vocalist junior George Dao-Jung Wu will cut loose with "Diggin' on James Brown" and sophomore Heidi Clark will do Nat King Cole proud with her rendition of "When I Fall in Love."
The percussion ensemble, under the direction of music faculty member Greg Strouse, will play four selections—including the lively "Irish Washwoman"—and feature soloist sophomore Max Smith on xylophone. Tyler Turcotte, a music and music technology major, will conduct "Clockwork," a piece he composed and will premiere at this performance.
Opera Workshop
Friday, April 11
Voice students will perform operatic scenes from Mozart's "Magic Flute" and "Le Nozze di Figaro," Gilbert and Sullivan's "Pirates of Penzance," and musical theater favorites "Into the Woods" and "A Little Night Music" by Stephen Sondheim. Angela Eaton will accompany on piano. Joanna Manring and Kenan Visiting Artist in Music Gregory Turay prepared the scenes.
Parking

Free parking is available in Transylvania's Mitchell Fine Arts Center lot off West Fourth Street between North Broadway and Upper streets. The Mitchell Fine Arts Center is wheelchair accessible. For more information, contact Gretchen Shoot, administrative assistant for the Division of Fine Arts, at 859-233-8141.