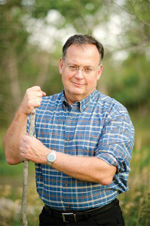 LEXINGTON, Ky.—In many regions of the United States, including Kentucky, water is endangered or in short supply. As the recent chemical spill in Charleston, W. Va., has shown us, what happens up river affects the communities below. Indeed, West Virginia and Kentucky are part of the same expansive Ohio River watershed that runs from Pennsylvania to Illinois. Water connects us. Our lives depend upon its quality and availability. Yet, more than 40 years after the creation of the Clean Water Act, our water is often compromised beyond use.
How do people, laws and nature get along?
Peter J. Longo, professor of political science at the University of Nebraska at Kearney, will provide insight in his presentation "Water Policy on the Great Plains: There's No Fooling Mother Nature" on Thursday, Feb. 20, at 4:30 p.m., in Transylvania University's Cowgill Center, room 102. The lecture is free and open to the public.
Longo will offer an overview of the culture of the Great Plains and address the local ecology and laws related to water. "Water issues and resulting policies and laws [bind] the citizens and political actors of the Great Plains," Longo explains. "However, policies and laws are no match for Mother Nature."Longo holds a J.D. and Ph.D. from the University of Nebraska-Lincoln. He teaches, researches and writes about civil rights and liberties, constitutional law and environmental policy. His writings on water range from how laws affect farmers to a legal history of Nebraska's water law to issues of environmental racism.
The lecture is part of Transylvania's Creative Intelligence Series, which also includes performances and art exhibitions as well as other lecturers who have creatively solved social problems and bettered their communities. All Creative Intelligence events are free and open to the public.
Cowgill Center is on Third Street just east of Old Morrison. Free parking is available in the lot adjacent to the Mitchell Fine Arts Center at the corner of Fourth and Upper Streets and in several other lots along North Upper.
For information about similar events on Transylvania's campus, view the university's public events calendar. For more information about the Creative Intelligence Series, contact Meg Upchurch at mupchurch@transy.edu or 859-233-8252.