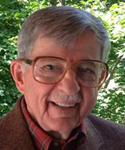 LEXINGTON, Ky.—Death of God theology?
Not too extreme for John D. Caputo, who will bring his provocative philosophy to Transylvania University's Carrick Theater at 7 p.m. March 20. His talk, "The Future of Justice: Nihilism and the History of Hope," is part of the Rick O'Neil Lecture Series.
"Caputo's cutting-edge thought challenges the conceits of religious traditions and secularity to offer different, affirmative ways of imagining the future," said Wilson Dickinson, associate dean for religious life. "His work stretches the boundaries of our typical ways of thinking to make room for justice, love, and perhaps even God."
Caputo, an internationally known professor emeritus at Syracuse and Villanova universities, has written more than 15 books that have been translated into a dozen languages. He lectures in far-flung locales—from Qatar to Norway.
"Caputo writes about profoundly complex matters in accessible prose—in ways that are provocative and understandable," Dickinson said. "While his ideas are new and challenging, he also draws from the deep wells of philosophical and theological traditions."
Caputo has been influential in the continental philosophy and emergent church movements.
According to his Syracuse University profile, he is "intent on producing impure thoughts, thoughts which circulate between philosophy and theology, short-circuits which deny fixed and rigorous boundaries between philosophy and theology."
His book, "The Weakness of God: A Theology of the Event," earned the 2007 American Academy of Religion Book Award for Constructive-Reflective Studies in Religion, and "What would Jesus Deconstruct?" won ForeWord Magazine's Best Philosophy Book in 2007.
Caputo's lecture will continue the legacy of the Rick O'Neil Lecture Series, which addresses issues of social justice,  inspires critical thinking in students and challenges conventional views.
Carrick Theater is in the Mitchell Fine Arts Center on West Fourth Street between North Broadway and Upper Streets. Free parking is available in the adjacent lot. For more information, contact Transylvania's fine arts office at 859-233-8141.