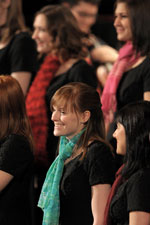 LEXINGTON, Ky.―All 39 Transylvania University choir members will soon board a coach bus for an early spring concert tour, performing an eclectic repertoire of sacred music in Kentucky, Tennessee, Louisiana and Texas churches.
The vocal tour kicks off March 7 close to campus, at Second Presbyterian Church in Lexington at 7 p.m., and then heads south, eventually landing in Fort Worth, Texas, the farthest destination on the six-day journey.
While the tour is regional, the musical offering is global, including songs of worship and adoration from the ancient to the contemporary.  A Lithuanian folk tune, a Nigerian Christmas song, Gregorian melodies and an E.E. Cummings' poem set to music are all part of the diverse mix of spiritual music offered by the choral group.
Transylvania's a cappella group, TBA, is featured after the intermission. A subset of the choir, TBA will invite the audience to join them in Michael McGlynn's "Alleluia: Incantations."  Each of the six concerts concludes with singing the praises of the university as well, with a heart-felt rendition of "Hail, Transylvania."
The homecoming concert is Monday, March 17, at 7:30 p.m. in Carrick Theater on Transylvania's campus. This concert, like all of the concerts on the tour, is free and open to the public.
Carrick Theater is in Transylvania's Mitchell Fine Arts Center on West Fourth Street, between North Broadway and Upper Streets. Free parking is available in the adjacent parking lot. The Mitchell Fine Arts Center is handicap accessible. For more information, contact Gretchen Shoot, administrative assistant for the Division of Fine Arts, at 859-233-8141.
Attend a Transylvania choir concert in your area
The music program encourages area alumni, friends and families to attend the concerts, which will be directed by longtime Transylvania music professor Gary Anderson who will retire at the end of the academic year. The performance dates and locations are as follows:
Lexington, Ky.
Friday, March 7, 7 p.m.―Second Presbyterian Church, concert

Brentwood, Tenn.
Saturday, March 8, 6 p.m.―Brentwood United Methodist Church, worship service  

New Orleans, La.
Sunday, March 9, 5 p.m. ―Lakeview Presbyterian Church, concert

Fort Worth, Texas
Monday, March 10, 7 p.m.―Ridglea Christian Church, concert

Lexington, Ky.
Monday, March 17, 7:30 p.m.—Carrick Theater, Transylvania University, concert