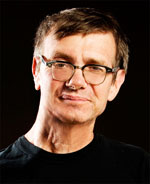 LEXINGTON, Ky.―According to author, playwright and storyteller Kevin Kling, "There's the trip you plan and then there's the trip you take. Our stories told and retold define who we are, where we come from, what's funny, what's sacred.  And the best story is a love story."  
Kling delivers that best story with "Breakin' Hearts and Takin' Names" on Tuesday, Feb. 25, at 7:30 p.m. in the Lucille C. Little Theater at Transylvania University. Written and performed by Kling, "Breakin' Hearts" is a hilarious and heartfelt collection of stories and songs about "love gone right, love gone wrong and everything in between."
Arguably one of America's very best storytellers, Kling is known for his popular commentaries on National Public Radio's "All Things Considered" and his storytelling stage shows like "Tales from the Charred Underbelly of the Yule Log," which are notable for having just the right mix of sentiment and silliness.
A Minneapolis native, Kling has authored five books, had his plays and adaptations performed around the world, and been awarded fellowships from the National Endowment for the Arts, The McKnight Foundation and The Bush Foundation, among others. He is a McDowell Fellow and has received the Whiting Award, the A.P. Anderson Award, the Jeahny Award from VSA and the Eric Peterson Award.
Kling was born with a congenital birth defect—his left arm is about three-quarters the size of his right arm, and his left hand has no wrist or thumb.
More than five years ago, Kling was in a motorcycle accident. The brachial plexus nerves in his right arm were pulled completely out of their sockets. Currently, he has partial use of his left arm and cannot use his right arm at all.
Kling continues to write plays and stories in a rigorous fashion and travels around the globe to numerous storytelling festivals and residencies. He has been invited to perform at the acclaimed National Storytelling Festival in Jonesborough, Tenn., for several years.
General admission tickets for the performance are $10 each, or $5 with a valid Transylvania ID. Tickets can be reserved by calling the box office at 859-281-3621 from 1–4 p.m. The box office, located in the Lucille C. Little Theater off West Fourth Street, is also open 30 minutes prior to performances. Free parking is available in the lot adjacent to the building. For more information, contact the Transylvania's fine arts office at 859-233-8141.