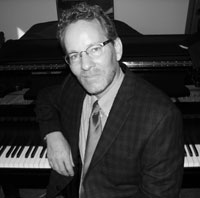 LEXINGTON, Ky.―Pianist John Mortensen presents "Off the Cuff," a recital composed entirely of improvisations in classical, jazz and contemporary music on Wednesday, March 5, at 7:30 p.m. The concert, in Transylvania University's Carrick Theater, is free and open to the public.
"I will improvise in several different styles and then describe briefly how improvisation works and what to listen for in each style," explained Mortensen.
His concerts may start with music of Bach, venture into improvisation, and end with music from the Canadian indie rock band The Arcade Fire or music composed by Leonard Cohen.
Mortensen has performed with artists from different musical worlds, such as Moscow Conservatory professor Mikhail Petukhov and All-Ireland fiddle champion Winifred Horan. He also performs and teaches Irish and American roots music, playing mandolin, octave mandolin, Irish flute, Irish button accordion, five-string banjo, Uilleann pipes and Irish whistle. He created America's only college-level traditional Irish music session class.
After a concert in Eisk, Russia, the Russian press wrote that "… for John Mortensen Russia has always been close musically. He plays with especial passion the works of Sergei Rachmaninoff. 'I don't speak Russian, I speak Rachmaninoff,' was heard from the mouth of the pianist during the concert. And truly, during the performance of the work of the great Russian composer, in the hall peoples of different nationalities disappeared—it seemed from the stage sang and wept the Russian soul. The chords of the next Rachmaninoff prelude had not even been played, and the hall was already conquered."
Mortensen studied with Lynne Bartholomew at the University of Michigan and Anne Koscielny and Raymond Hanson at the University of Maryland, receiving his doctorate in piano performance from the latter.  He now serves as professor of piano at Cedarville University in Ohio.
Mortensen's recital is part of Transylvania's Creative Intelligence Series, which also includes art exhibitions as well as lecturers who have creatively solved social problems and bettered their communities.
Carrick Theater is in Transylvania's Mitchell Fine Arts Center on West Fourth Street, between North Broadway and Upper Streets. Free parking is available in the adjacent lot. The Mitchell Fine Arts Center is handicap accessible. For more information, contact Gretchen Shoot, administrative assistant for the Division of Fine Arts, at 859-233-8141.