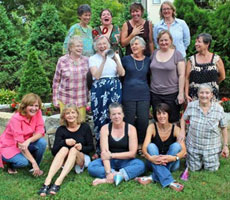 Image courtesy of the Louisville
Courier-Journal.

LEXINGTON, Ky.—Women still earn 77 cents for every dollar a man earns. They make up a small percentage of our political representatives. And women artists are ridiculously underrepresented in standard texts published about art.
The newest exhibition at Transylvania University's Morlan Gallery is designed to help bridge that gap in awareness of the contributions of female artists.
"ENID: Generations of Women Sculptors" opens at the Morlan Gallery on Friday, Feb. 28, with a reception for the artists from 5–8 p.m. The show runs through Friday, March 28. The exhibition is free and open to the public weekdays from noon to 5 p.m. The gallery will be open 2–7 p.m. on Friday, March 21.
(During the university's spring break week, which begins March 10, the exhibition is open by appointment only. Contact gallery director Andrea Fisher at 859-233-8142 to make arrangements to view the exhibition between 9 a.m. and 5 p.m.)
Fourteen artists will be featured in the exhibition: Gayle Cerlan, Caren Cunningham, Jeanne Dueber, Ewing Fahey, Sarah Frederick, Mary Dennis Kannapell, Frances Kratzok, Shawn Marshall, Suzanne Mitchell, Joyce Ogden, Jacque Parsley, Cynthia Reynolds, Gloria Wachtel and Melinda Walters.
The Kentucky-based collective of female artisans started in 1998 when a small group of female sculptors in Louisville came together to provide support for one another. They unanimously elected to take on the name ENID for their collective as a way to honor Enid Yandell, Louisville's first recognized female sculptor.
The collective shows its work throughout the Ohio Valley region. The members range in age from 40–91 years and have varying levels of education, from self-taught sculptors to those with graduate degrees.
On Tuesday, March 25, from 12:30–1:30 p.m., art historian Dr. Juilee Decker will present a lecture at the gallery on the life of Yandell, followed by a question and answer session with attending ENID artists. As part of Transylvania's Gender Awareness Week, the lecture and subsequent conversation will address the changes, challenges and advantages of being a female artist.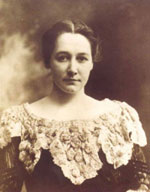 Enid Yandell (1869–1934) worked in the River City and maintained a studio in Paris, France, where she exhibited at the Paris Salon and studied under the celebrated French sculptor Auguste Rodin. Yandell successfully competed against male artists of her period, winning many important commissions. Notably, she worked on the famous World's Columbian Exposition of 1893 in Chicago. In 1898, Yandell became the first female member of the National Sculpture Society, the oldest organization of professional sculptors in the United States.
Ewing Fahey, the founding member of ENID, speaks of the challenges Yandell had as a woman artist in 19th-century America. "Enid designed two of Louisville's best loved public sculptures, both in Cherokee Park—her Daniel Boone statue and Hogan's Fountain. In 1894, she entered a blind competition for a confederate monument commission in Louisville, but when the Courier-Journal announced that a woman had won, all hell broke loose. The criticism was so severe that Enid withdrew her design. But she was not one to sit around and pout—off she went to study with Rodin in Paris."
When asked if the sculpture world is still a good-ol'-boys club, ENID artist Caren Cunningham says, "I feel there have been great strides made in the 21st century. For example, when most of us were in school 'Janson's History of Art' was the textbook, but there were no women included in that publication. After Janson's death…his son revised it and then included 19 women—out of 2,300 artists. This number has since improved, but clearly is still lacking."
Several ENID artists agree that the Internet has helped women gain visibility in the art world, reducing the disparity in the information published about male and female artists.
The Morlan Gallery is located on the main level of the Mitchell Fine Arts Center on West Fourth Street in Lexington. Free parking is available in the adjacent lot.
Information about this exhibition and the entire 2013–14 gallery schedule can be found at www.transy.edu/morlan. For more information, contact Morlan Gallery Director Andrea Fisher at 859-233-8142 or afisher@transy.edu. All gallery exhibitions and events are free and open to the public.
Summary of events
All events will take place in the Morlan Gallery, Mitchell Fine Arts Center, Transylvania University.
Regular gallery hours: Weekdays noon–5 p.m. 

Opening reception: Friday, Feb. 28, 5–8 p.m.

Extended hours: Friday, March 21, 2–7 p.m.

Lecture on Enid Yandell (1869–1934) with art historian Dr. Juilee Decker:
Tuesday, March 25, 12:30–1:30 p.m.

Exhibition closes: Friday, March 28, 5 p.m.
---
Read the Lexington Herald-Leader article by Rich Copley.