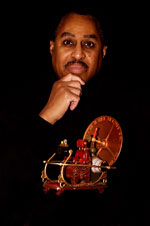 LEXINGTON, Ky.—When physicist Ronald Mallett was 10 years old, his father died of a heart attack. Within a year, inspired by a comic book based on "The Time Machine" by H.G. Wells, Mallett began to imagine traveling back in time in the hope of saving his father's life.
The idea became a lifelong quest to make time travel possible. Award-winning filmmaker Spike Lee is adapting Mallett's memoir, "Time Traveler: A Scientist's Personal Mission to Make Time Travel a Reality," for a feature film.
Mallett, professor of physics at the University of Connecticut, will share his gripping personal and scientific journey during the Kenan Lecture on Tuesday, March 4, at 7:30 p.m., in Transylvania University's Haggin Auditorium. A reception and book signing will immediately follow in Carrick Theater. The lecture and reception are free and open to the public.
Designed for a general audience, the lecture—"The Real Science of Time Travel"—will draw from his memoir and also focus on the scientific possibility of time travel based on Einstein's theories of relativity. It will highlight Mallett's own current research and consider the problems and paradoxes of time travel.
When asked what kept him focused on his lifelong quest, Mallett explained, "My passionate desire to see my father again is what kept me primarily focused on my goal of understanding time travel. When I realized that time travel might be possible based on Einstein's theories of relativity, I felt that this was a solid foundation. It was this foundation in Einstein's work that gave me confidence in my theory."
Mallett received his B.S., M.S. and Ph.D. in physics from Pennsylvania State University. He worked at United Technologies from 1973–75 and in 1975 joined the physics faculty at the University of Connecticut in Storrs, where he is currently a research professor of physics.
Mallett has published numerous papers on black holes and cosmology in professional journals. His breakthrough research on time travel has been featured extensively in media around the world. His primary research interests are black holes, general relativity and gravitation, relativistic astrophysics, quantum cosmology and time travel.
The lecture is part of Transylvania University's William R. Kenan Jr. Lecture Series and is funded by a grant from the William R. Kenan Jr. Charitable Trust. Haggin Auditorium is located in the Mitchell Fine Arts Center on West Fourth Street between North Broadway and Upper Streets. Parking is available in the parking lot adjacent to the building. The Mitchell Fine Arts Center is handicap accessible. For more information about the Kenan Lecture, contact Meg Upchurch at mupchurch@transy.edu or 859-233-8252.