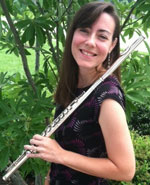 Jana Flygstad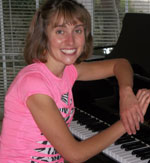 Erica Rumbley
LEXINGTON, KY―Transylvania University faculty member and piano accompanist Erica Rumbley will be joined by flutist Jana Flygstad for a recital featuring, among other Spanish favorites, "Fantasia para un Gentilhombre" (Fantasia for a Gentleman) by composer Joaquín Rodrigo and the "Sonata Romanticia" by Joaquín Turina.
The duo will perform on Thursday, Feb. 27, at 7:30 p.m. in Carrick Theater, located in Transylvania's Mitchell Fine Arts Center. The hour-long event is free and open to the public.
Currently pursuing her Ph.D. in musicology at the University of Kentucky, Rumbley says she is excited about the concert, which features passionate music that is "intriguing and enjoyable for both performer and audience."
Flygstad earned a Master in Music Performance from Northwestern University, where she studied flute and piccolo with Walfrid Kujala. She received her Bachelor of Music in music education from the University of Kentucky and studied with Gordon Cole. In 2007, Flygstad won First Prize in the Flute Society of Kentucky Young Artist Competition. She has also been a Finalist in the Chicago Flute Club Young Artist Competition and the Flute Society of Kentucky Piccolo Artist Competition. Flygstad is a founding member and flutist of Air City Woodwind Quintet and Unbridled Flutes.
Free parking for the event is available in the lot adjacent to the Mitchell Fine Arts Center, located off Fourth Street between North Broadway and Upper Streets. The Mitchell Fine Arts Center is handicap accessible. For more information, contact Gretchen Shoot, administrative assistant for the Division of Fine Arts, at 859-233-8141.