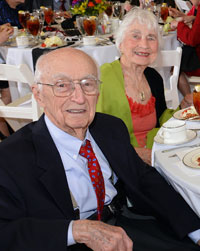 LEXINGTON, Ky.—A discussion series similar to ones adopted by the University of Southern California, Stanford and Harvard has recently become popular on the campus of Transylvania University. Created to explore values and vocation, the series offers a safe and respectful place where individuals come together to share their personal journeys.
On January 14, "What Matters to Me and Why" will feature two respected members of the Lexington community: Wayne Bell (Transylvania class of 1940) and Virginia Marsh Bell (class of 1944). The discussion will likely center around their extraordinary lives of service.
Wayne Bell, a Disciples of Christ minister who was active in the civil rights movement, served as president of Lexington Theological Seminary and is a long-time Transylvania trustee. Virginia Marsh Bell has enjoyed a long career as a social worker and is acclaimed for her work on Alzheimer's disease. She is a sought-after speaker and writer on the issue and has developed one of the country's first dementia-specific adult day programs, the Best Friends Center.
"It's important to have exemplars who have found success through service," explains Wilson Dickinson, Transylvania's associate dean for religious life. "It's not just what they've done. It's who they are."
Dickinson notes the particular relevance of these discussions to young people starting out in life. "The old model of a single career path is disappearing. If you're focused on 'success' instead of fulfillment, that can be frustrating. But if you are driven by a deeper purpose, then these varied paths are exciting and invigorating." He encourages students to ask, "Why does what we do here matter to us and to the rest of the world?"
The event will be at 6:30 p.m. in the William T. Young Campus Center, located on the corner of North Broadway and West Fourth Street. It is free and open to the public. Free parking is available in the university's general parking lots along West Fourth Street.
For more information about the event, contact Dickinson at 859-281-3691 or tdickinson@transy.edu.