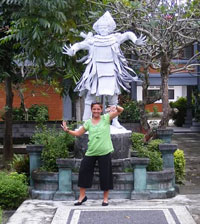 LEXINGTON, Ky.—Reflecting its commitment to attracting international students and helping them succeed after they arrive on campus, Transylvania University has hired Serenity Wright as a full-time international student services coordinator.
Wright is a passionate teacher, researcher and international traveler. She holds a B.A. in history with a minor in educational studies from Transylvania University and an M.A. in curriculum and instruction from the University of Kentucky. She is scheduled to complete her Ed.D. at UK with a focus on multicultural curriculum in the summer of 2014. During her career, Wright has worked as a social studies teacher, a curriculum and literacy specialist and a behavioral interventionist for students in danger of falling into the achievement gap.
Wright is excited about her role in nurturing the students from abroad and perhaps enriching their experience in the U.S., but she is equally enthusiastic about the "wealth of knowledge that our international students bring with them" and how "that will enhance and expand the classroom community" at Transylvania.
Wright's responsibilities will include coordinating Transylvania's Friendship Family Program, which connects students far from home with local host families who can provide a more personal introduction to the area and to the local culture. She'll also arrange international dinners in conjunction with the International House, a campus student residence that promotes awareness of other cultures, as well as provide personal assistance to help students acclimate to their new home.
At Transylvania, international students also receive personalized academic assistance to help them adjust to the demands of a liberal arts college and sharpen their English language and writing skills, if needed.
These services are becoming more and more important as the university diversifies its student body. The 2013-14 incoming class was the most international in Transylvania's history, including students from Australia, Canada, China, Egypt, Mexico, Peru, Rwanda and Switzerland.
"We are extremely excited to welcome Serenity as the full-time international student services coordinator," said Michael Covert, associate vice president for retention and associate dean of students. "She brings a wealth of experience and will help us provide a high level of support and services for our international students."
Wright's own experience as an international student gives her insight into the adjustments her students face. When she was 10 years old, she moved with her family to Indonesia. She then moved back to Kentucky to finish high school. In both cases, she found herself in cultures she didn't understand. Wright notes, "I almost think high school was more difficult, because I knew the language but was exceptionally lost in terms of social cultural cues."
After graduating from Transylvania, Wright lived in South Africa as she pursued a master's degree. She returned to Indonesia in 2010 as a Fulbright-Hays teacher.
"None of these experiences has made me an expert in understanding all cultures or every struggle for each student. But, I do think it has made me more astutely aware of the necessity of being culturally sensitive and open to the academic and social struggles and successes for international students. I hope that I can serve as a liaison and cultural broker on campus. My goal is not merely to help international students survive but to create agency and empathy for the entire campus community."
For more information, contact Wright at 859-233-8805 or swright@transy.edu.