LEXINGTON, Ky.—January's "Polar Vortex" hasn't slowed Transylvania's vocal and instrumental performers one note. Rather, they have doubled their Honor's Recitals performances and added an extra day to their popular Cabaret production.
Honors Recitals
January 16 and 21, 7:30 p.m.
Instrumental performers selected by a jury of peers and music professors will perform Honors Recitals in Carrick Theater, located in the Mitchell Fine Arts Center. Honors Recitals are free and open to the public.
Each performance lasts about one hour and features students who are majors and non-majors. One student, sophomore Yuwei "Vivian" Tsai who will perform Jan. 21, started taking piano lessons just two years before coming to college. She progressed so quickly that she earned a piano scholarship to attend Transylvania. Appearing in her first Honors Recital, the biology major will perform a piece by Debussy.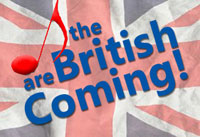 Cabaret
January 31, 7:30 p.m.
February 1, 3:00 and 7:30 p.m.
Transylvania University's vocal ensembles will present "An Evening at the Cabaret: The British Are Coming," Friday and Saturday, Jan. 31 and Feb. 1, in Carrick Theater. All tickets are $5.
"An Evening at the Cabaret"—featuring the Transylvania Choir, the Transylvania Singers, the Pioneer Voices, a cappella groups TBA and Grace Notes and several soloists—will include a variety of songs made popular by the British invasion, such as "Bohemian Rhapsody," a Beatles medley (of course!) and music from Spamalot.
Beginning Monday, Jan. 27, the Carrick box office will be open weekdays, noon to 4 p.m., to sell Cabaret tickets. Tickets may be purchased in person or by calling 859-233-8601.
Parking is available in the Mitchell Fine Arts Center parking lot, located off Fourth Street between North Broadway and Upper Streets. The Mitchell Fine Arts Center is handicap accessible. For more information, contact Gretchen Shoot, administrative assistant for the Division of Fine Arts, at 859-233-8141.