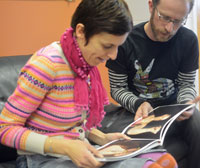 LEXINGTON, Ky.―It's been a whirlwind two years for Transylvania University art professor Kurt Gohde and English professor Kremena Todorova, who conceived the wildly popular and nationally acclaimed Lexington Tattoo Project. The tattoos are long healed, and now the only ink waiting to dry is the publisher's process ink for their new 160-page full-color coffee table book, due to be released Friday, Feb. 7, during an event at the Carnegie Center for Literacy and Learning.
A multi-phase, multi-media artwork, The Lexington Tattoo Project boldly asked Lexingtonians to volunteer their bodies as the canvas for an inked phrase from an original poem about their beloved Bluegrass city.
Gohde and Todorova asked author, poet and Transylvania graduate Bianca Spriggs to write a love letter to Lexington, which resulted in "Lexington is the ___________ of the Universe." The poem, written in contrapuntal form, incorporated words provided by Facebook friends to fill in the blank.
As the 253 participants were inked, Gohde and Todorova photographed each tattoo.
Finally, a video was created by digitally stitching together all the photographs, which were cleverly designed to create a secondary image when viewed together. The video includes Spriggs reading the poem, underscored by a contrapuntal music composition by singer-songwriter Ben Sollee. The video premiered on Nov. 15, 2013, during PRHBTN, Lexington's annual street-art festival, to a wildly enthusiastic audience.
"Like so many other parts of the Lexington Tattoo Project, this book is a result of collaborative effort," said Gohde. "Folks asked us to make it, then two participants told us that they would help secure funding for it, and in the end we could not say no, no matter how busy we already felt. This book truly is about, by and for our community."
"The Lexington Tattoo Project" book includes a complete collection of the tattoo portraits of all participants, stories of individual tattoos and essays that contextualize the artwork, including a short essay by Gohde and Todorova.
"The Lexington Tattoo Project" book release is scheduled for Feb. 7 at 7 p.m. at the Carnegie Center for Literacy and Learning, located on West Second Street, in Lexington, Ky. Books will be available for purchase at the cost of $49. The book release, which is the last public event for The Lexington Tattoo Project, will include a Bianca Spriggs reading, a screening of The Lexington Tattoo Project video, live tableaux and, as promised on the Facebook event page, "gastronomical surprises."
Books are also available through Morris Book Shop, reachable by phone at 859-276-0494 or email at morrisbookshop@gmail.com. Customers who pre-order before Feb. 6 will receive a special price of $45.