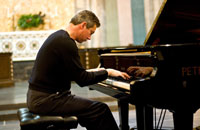 LEXINGTON, Ky.―Pianist Mark Valenti will visit Transylvania University Jan. 14 for an event billed as part concert and part music appreciation class. "The Art of Creative Listening" is aimed at a general audience interested in an introduction to the art of piano and the art of listening to classical music. The event is sponsored by Transylvania's Division of Fine Arts and is free and open to the public.
Valenti's program includes a mix of pieces from various stylistic eras―from Baroque and Classical to Romantic, Impressionist and Modern, including some jazz improvisation. He will walk the audience members through each piece, pointing out what to listen for, defining the musical style and, in general, equipping them to appreciate music at a deeper level.
Performing in the United States and Europe, Valenti's list of notable accomplishments includes playing for former First Lady Barbara Bush in Washington, D.C., giving a live recital on WFMT classical radio and appearing on television with Joe Sudler's Swing Machine and with singer/actor Christopher Durham. Valenti has also worked extensively in the jazz field, having performed with actor, singer and dancer Gregory Hines, composer Frank Foster and trombonist Al Grey. The seasoned musician received a Master of Music from Northwestern University and a Bachelor of Music from the Philadelphia Musical Academy.
"The Art of Creative Listening" will be in Carrick Theater, located in the Mitchell Fine Arts Center, at 7:30 p.m. Parking is available in the Mitchell Fine Arts Center parking lot, located off Fourth Street between North Broadway and Upper Streets. The Mitchell Fine Arts Center is handicap accessible. For more information, contact Gretchen Shoot, administrative assistant for the Division of Fine Arts, at (859) 233-8141.