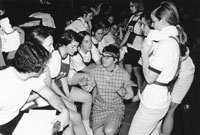 LEXINGTON, Ky.—When Pat Deacon was a student at the University of Kentucky in the 1950s, there were no intercollegiate sports programs for women, at least not as we know them today. Women who enjoyed athletic competition could participate in sports organized under the auspices of the Physical Education Department. There were no uniforms, no training facilities and no coaches. But there were occasional games against nearby colleges, and Deacon took advantage of the opportunity to play basketball and field hockey.
It was not until the passage of Title IX in 1972 that women slowly began to have equal access to sports programs, sports funding and regular competition. That was the same year that Deacon arrived at Transylvania University, where she blazed the trail for women's athletics until her retirement in 1999.
During that period, Deacon served at various times as women's athletics director, associate athletics director, women's intramural sports director and physical education professor, in addition to her head coaching positions. She pioneered the modern era of women's basketball at Transylvania, leading the team through 16 seasons and more than 150 wins. Over 29 seasons, her field hockey teams set the standard among Kentucky colleges, especially with their 98-55-3 record from 1979-88, when they won eight state championships in a row.
Deacon was elected to Transylvania's Pioneer Hall of Fame in 2000.
And on Sunday, Feb. 2—National  Girls and Women in Sports Day—the University of Kentucky, where Deacon earned both an A.B. and an M.A. in physical education, will award Deacon the seventh annual Sue B. Feamster Trailblazer Award during halftime of the UK women's basketball game against LSU. The game begins at noon at Memorial Coliseum. Reserved seats for the game are $9; general admission is $8 for adults and $5 for children (ages 6-18) and seniors (65 and over). Children five and under are free.
The award, given to those "who have provided exceptional  leadership and paved the way for others to succeed," will be presented by Feamster, UK's first women's athletics director and another pioneering women's basketball coach, as well as a national leader on the NCAA steering committee who helped pave the way for women to play in the NCAA. Feamster received the Trailblazer Award in 2008.
Presenting this award has special meaning for Feamster. She and Deacon first met when Deacon was student teaching at Franklin County High School, where Feamster was a sophomore. The two got to know each other professionally when they were both coaching at UK, before Deacon moved on to Transylvania.
"Pat was a great leader in the Title IX movement 41 years ago," said Feamster. "She worked extensively with the Kentucky Women's Intercollegiate Athletic Conference, which was our playing conference before we joined the NCAA. She chaired many committees over the years. Pat also worked diligently to convince Transylvania to sponsor women's athletic scholarships. At the time, Transy was one of the few NAIA schools to have scholarships for women. She counseled me throughout my career at UK, providing encouragement and shaping my vision. She was a tremendous friend and mentor. It will humble me to present her the award."
Since retiring in 1999, Deacon has found more time to pursue active interests. Between 1999 and 2013 she and her husband, Jack, biked about 48,000 miles on tandem bicycles throughout the U.S. and in Europe. And don't think they're slowing down. The two logged their greatest number of miles in 2013—3,800. They also sponsor annual cycling adventures throughout Central Kentucky.
In addition to cycling, Deacon currently enjoys basketball, table tennis and pickleball. She has amassed 82 medals in the three sports at Florida's Senior Games. 
Deacon remains close to many of her friends and colleagues at Transylvania. Sharon Brown, professor of exercise science, describes how Deacon has influenced her life.
"Pat Deacon has been a mentor and wonderful friend since I first arrived as a new faculty member at Transylvania 18 years ago. That fall, Pat organized and led an 18-mile bike ride one Saturday for faculty and staff.  Because of her willingness to mentor and encourage new riders, my husband and I became cyclists.  We have ridden thousands of miles with Pat and her husband around central Kentucky over the years. We have also ridden on numerous five-day bike trips around the state under her leadership.
"I am only one of many people who have become cyclists because of Pat. Her love for physical activity—and for her friends, family, Transy and Kentucky—is contagious."
On April 26, at 1:30 p.m., Transylvania will honor Deacon when it dedicates the Pat Deacon Stadium, part of the new Transylvania Athletics Complex on West Fourth Street. For more information, contact Holly Sheilley, Transylvania's director of athletics, at hsheilley@transy.edu.