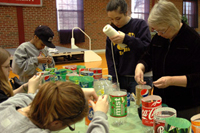 LEXINGTON, Ky.—Martin Luther King Jr. Day is more than just time off work or school. It's a call to service, and Transylvania University is answering it.
The school and its students will engage community members in a wide variety of activities on the Jan. 20 holiday—from knitting mittens for the needy to participating in Lexington's Freedom March.
The school has honored this nationwide Day of Service for more than a decade, said Karen Anderson, coordinator of community service and civic engagement. "It's a day off of work—but a day on for your community," she said.
It's a time for Transylvania to partner with service agencies and welcome other volunteers to campus. Community members are invited to join campus activities organized to help support our neighbors in need.
This year's volunteers include high school students from Estill County, who will make sandwiches for the homeless.
"Last year I brought my students because I felt like they would benefit from going to a college campus and being around college students and actually seeing college students participate in activities that better someone else," said Ashley Flynn, the AmeriCorps Kentucky College Coach for Estill County High School. "For the students to spend their day off from school serving others is just what Martin Luther King Jr. Day of Service is all about," she said.
It helps teach youth that service is a life-long continuum of engaging with the community, Anderson said. Plus, "It's a really good way for high school students to see what college life can be like."
Other participating groups—who are encouraged to sign up ahead of time—include those looking to fulfill service requirements for schools or clubs, such as the Boy Scouts.
Projects on campus that day will include furniture collection for Kentucky Refugee Ministries (coordinated by the Campus Center), a blood drive, and knitting for the New Life Day Center shelter.
At the end of the day, volunteers can gather to watch excerpts from King's final speech, "I've Been to the Mountain Top," and reflect on his legacy.
"The Martin Luther King Day of Service has become another tradition at Transy," Spencer Peach '16 said. "It gives students a chance to engage meaningfully with the community by giving back and by learning more about our neighbors by volunteering beside them."
For more information about the day's events or to sign up for a project, click here. The Campus Center is located at the corner of North Broadway and West Fourth Street. Free parking is available in the university's general parking lots along West Fourth Street.
Some of the activities open to the public include:

Blood Drive, Campus Center Gym, 10:30 a.m. to 4:15 p.m.
To sign up for the blood drive, click here.

Valentines, Campus Center Conference Room A, 12:30-3:30 p.m.
Make valentines for the community and prepare labels for God's Pantry canned goods.

Knit for Life, Campus Center Lounge, 12:30-3:30 p.m.
Knit scarves, hats, mittens or gloves for the New Life Day Center.

Cookies and Conversation, Forrer Hall, The Presidents' Room, 3:30 p.m.
View clips from Dr. King's final speech, "I've Been to the Mountain Top," and discuss the enduring significance of his vision and contemporary efforts for justice.  This event is co-sponsored by the Black Student Alliance and the Office of Religious Life.