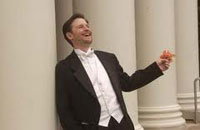 LEXINGTON, Ky.—Tenor Gregory Turay knows about journeys, not only in distances logged by frequent flyer miles but paths taken when one follows one's heart.
So it's no surprise that the Metropolitan Opera singer will perform two wayfarer song cycles, "Songs of Travel" and "On Wenlock Edge," written by prolific English composer Ralph Vaughan Williams, for a concert in his hometown of Lexington, Ky., Wednesday, Feb. 12, at 7:30 p.m. at Transylvania University's Carrick Theater. The concert is free and open to the public.
The hour-long concert features the six-part song cycle "On Wenlock Edge" for voice, piano and string quartet and the world premiere of John Greer's arrangement of "Songs of Travel," a nine-part song cycle for voice and piano. There will be a brief intermission between the two compositions.
"I wanted to do a recital of "On Wenlock Edge" because I love the piece," said Turay. "It's been a passion of mine since I performed it almost 20 years ago in Charleston, S.C., at the Spoleto Festival with Charles Wadsworth. And then John Greer, my accompanist, suggested the 'Songs of Travel,' as he had been working on an arrangement of them for piano and string quartet; it was a perfect marriage!"
Turay's journey into the opera world began in 1995 when he competed and won at the national level of the Metropolitan Opera National Council Auditions. He was awarded a place in the opera's Young Artist Development Program, which led to an international career that has taken him around the world, including to Japan, Poland, Spain, Ireland, Peru and England.
Turay is the recipient of several of classical music's most coveted honors, including the Richard Tucker Award, the George London Foundation Award and an ARIA award. Turay was hailed early in his career by the London Times as "one of the brightest natural talents to have emerged from the U.S. in recent years."
Turay is currently a Kenan Visiting Artist at Transylvania University. Although his teaching schedule has forced him to reduce the number of his performances, he continues to perform abroad, including recently in Dublin, Ireland; Lima, Peru; and Mexico City.
"I moved back [to Lexington] so I could be home more for my wife and three children. Therefore, I mainly try to stay local," said Turay.
John Greer, who arranged "Songs of Travel" and will accompany Turay for the concert, is a faculty member of the University of Toronto opera division and is currently a visiting associate professor of vocal coaching/head coach of voice and opera at the University of Kentucky.
Greer has served as the music director of the Eastman Opera Theatre in Rochester, N.Y.; has been the director and chair of opera studies at the New England Conservatory in Boston; and for ten summers was the manager and head of music staff for the Janiec Opera Workshop at the Brevard Music Center in North Carolina.
Carrick Theater is in Transylvania's Mitchell Fine Arts Center on West Fourth Street, between North Broadway and Upper Streets. Free parking is available in the adjacent parking lot. The Mitchell Fine Arts Center is handicap accessible. For more information, contact Gretchen Shoot, administrative assistant for the Division of Fine Arts, at 859-233-8141.