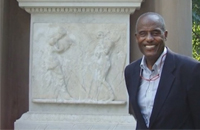 LEXINGTON, Ky.—How did a Civil War regiment of African American soldiers shape the America of today?
The multifaceted Noah Griffin—singer, performer, historian, poet, TV and radio personality, inspirational speaker, former political campaign aide, and graduate of Harvard Law School—will present "The Massachusetts 54th Regiment: Storming the Ramparts for Today's America" at Transylvania University's Carrick Theater in the Mitchell Fine Arts Center on Tuesday, February 4, at 7 p.m. The event is free and open to the public.
The 54th Massachusetts Volunteer Infantry Regiment was the first unit of African American soldiers to be recruited in the North to serve in the Civil War. Its history provides insight into the complexities of the nation during the Civil War and, according to Griffin, a better understanding of contemporary America.
Griffin will speak about his personal search for "the most valiant regiment in the Civil War, which opened the door for black citizenship, the vote and the America of today where we have the first African American president."
Griffin's life's journey has come full circle. Gifted in song at an early age, but drawn to explore many of his other talents, Griffin realigned his priorities after a stroke and paralysis in later life compelled him to return to singing. Now he combines his art with his other gifts to inspire audiences to think about larger issues and to pursue "what you were intended to do in life…[to] live your dream."
Griffin's lecture is part of Transylvania's year-long series celebrating diversity. Still Overcoming: Striving for Inclusiveness offers speakers, panel discussions, film screenings, and performances. Transylvania invites members of the central Kentucky community to participate in this ongoing public discussion. All events are free.
Carrick Theater is located in the Mitchell Fine Arts Center on the campus of Transylvania University. Free parking is available in the adjacent parking lot, located off West Fourth Street between North Broadway and Upper Streets. The Mitchell Fine Arts Center is handicap accessible. For more information about the event, contact Susan Hofmann at shofmann@transy.edu or 859-233-8280.