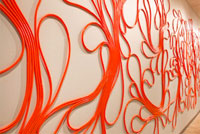 LEXINGTON, Ky.—Over a thousand yards of tattered garden hose, two years of dusty lint, hundreds of water bottles and dozens of old laundry detergent bottles will litter Transylvania University's Morlan Gallery come January. And no one is picking up.
American artists David Edgar, Suzanne Proulx, Michelle Stitzlein and David Wilson will show together for the first time in "Trashformed," an exhibition that demonstrates what can happen when artists intercept the waste stream of American life and transform it into artwork rich with meaning.
Works range from David Wilson's elegant wall "drawings" created from repurposed garden hose to a warren of bunnies by Suzanne Proulx, who collected years of household "dust bunnies" for this installation of playful life-sized rabbits.
David Edgar's colorful hanging lamps are constructed from finely cut and reassembled laundry detergent bottles. The end product is crisp and clean, hardly what one would imagine from "trash."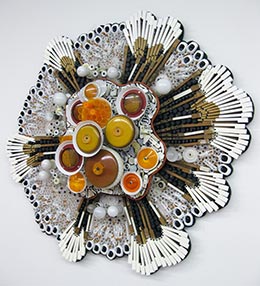 Ohio artist Michelle Stitzlein, who like the other artists is a self-proclaimed trash hound, often retrieves art materials from neighborhood garbage cans. Stitzlein's "Dumpster dives" result in finely detailed and ordered sculptures, such as her Moth Series, where each moth is imbued with thousands of objects and can measure up to 12 feet wide. And her newest work, from the Fynbos Series, will premiere in Morlan's "Trashformed" exhibition.
"Trashformed" opens Wednesday, Jan. 15, and closes after the Lexington Gallery Hop on Friday, Feb. 21, 5-8 p.m. Regular gallery hours are weekdays noon to 5 p.m.
The Morlan Gallery will also be open until 7 p.m. on Tuesday, Feb. 4, and Thursday, Feb. 13, to accommodate visitors attending other special events on campus.
In addition, the gallery will be open Feb. 15 from 7 to 8:15 p.m. before Ben Sollee performs in Haggin Auditorium, just down the hall from the gallery. The gallery will also be open briefly after the concert. Tickets to the concert are $15 for general admission and can be purchased online at www.tinyurl.com/TUBenSollee.
Contact gallery director Andrea Fisher at 859-233-8142 to make arrangements to view the exhibition at other times.
The Morlan Gallery will host a workshop, an art talk and a reception related to the exhibition. All three events are free and open to the public.
On Tuesday, Jan. 14, from 3 to 4:30 p.m., Pennsylvania artist Suzanne Proulx will give a "Trashforming" workshop on how to create thoughtful work from everyday cast-offs. The workshop will be in the Shearer Studio Art Building on West Fourth Street. Parking is available in adjacent lots or across the street. Although this workshop is free, registration by Friday, Jan. 3, is required. Contact Morlan Gallery Director Andrea Fisher at 859-233-8142 to register. Space is limited.

On Wednesday, Jan. 15, at 12:30 p.m., Suzanne Proulx will discuss her art practice and how it reflects contemporary society's yearning for an authentic interaction with nature while simultaneously destroying it. She'll also talk about her own relationship to this conundrum. This event will be in Morlan Gallery.

On Wednesday, Jan. 15, there will be an opening reception at the gallery from 4–6 p.m.
The Morlan Gallery is located on the main level of the Mitchell Fine Arts Center on Transylvania's historic campus. Parking is available in the lot adjacent to the building on West Fourth Street. Information on this exhibition and the entire 2013-14 gallery schedule can be found at www.transy.edu/morlan. For more information, contact Morlan Gallery Director Andrea Fisher at 859-233-8142 or afisher@transy.edu.